Common Grounds - Triple Coffee Porter... - Magic Rock Brewing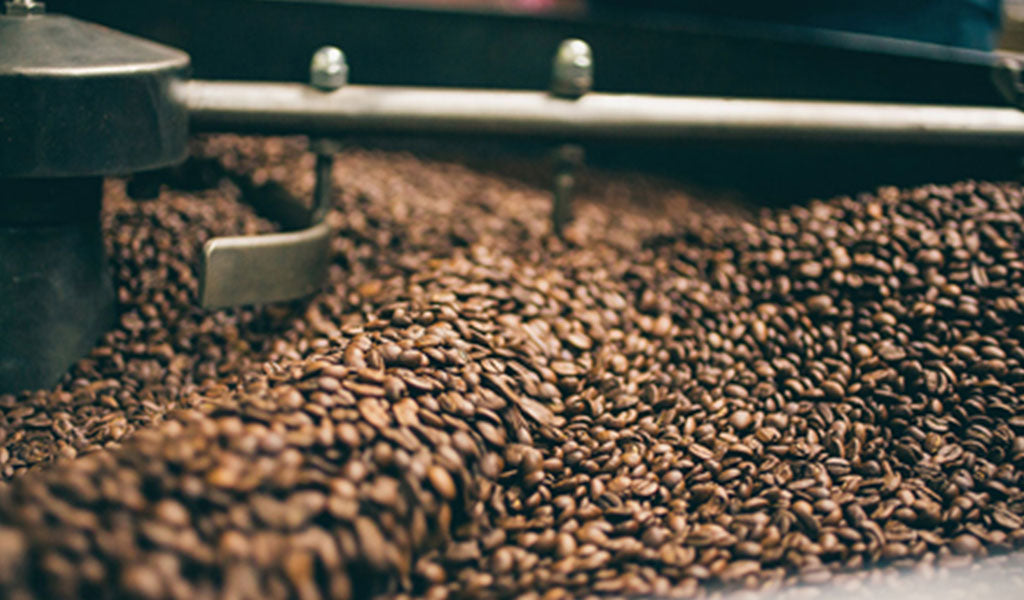 Since opening the tap room we've had the opportunity to work with a number of local food producers, and we've been particularly happy to forge a relationship with local coffee roaster Dark Woods. We'd first been contacted by co-founder Paul Meikle-Janney back in 2012 with regard to participating in some coffee workshops he was planning through his Barista training business 'Coffee Community'. So earlier this year when we started thinking about where to source coffee for Magic Rock Tap, he was the obvious point of call.
Dark Woods have been operating out of a converted mill space in Slaithwaite for the past year or so, roasting their hand selected beans on a restored 1950's German drum roaster and are fast creating a reputation for excellent coffee. Paul along with co-founder Ian and roaster Damian combine over 40 years of coffee training, buying and roasting experience into their business and we've felt since the beginning that as well as inhabiting the same town we share a lot in common with them in our approaches to what we do and what we want with regard to quality of product.
We'd  had plans to do a coffee beer since the early days of the brewery but for one reason or another never got round to it, in part due to not having what we felt were the right contacts within the coffee business. We've collaborated on one or two one-offs with Dark Woods (dry 'coffee'd' versions of Cannonball & High Wire) for events in the last year but felt the time was right to produce a proper coffee beer.
With this in mind we headed down to the mill a few weeks back to choose a few different coffees for the coffee porter we'd decided to brew with Dark Woods. What we were looking to produce was something a little different to other coffee porters, a chewy beer with smooth mouth feel but with plenty of flavour and nuance added by the coffee. We were looking for flavours such as chocolate/toffee/marshmallow/nuts/fruit/vanilla rather than just a harsh roasted coffee flavour.
Given this brief Damian at Dark Woods selected a number of roasts  for us to taste and after an hour or so cupping we eventually decided on a number of coffees, which would be added at different points during the brew to help us achieve the goal.
The coffees we decided on were as follows:
Darker roast blend of Natural Brazil/India/Ethiopian beans to be used in the mash.
Blend of Panama Cafe Kotowa Natural/Panam Finca Lerida Natural to be added during whirlpool
Ethiopia Yirg washed/Rwanda Maraba III to be added during conditioning
Damian came and joined us for the duration of the brew day and we're pretty happy with the results, we hope if you love coffee you will be too. We decided to call the beer 'Common Grounds' to tie in our shared locality and enjoyment of each others products as well as the coffee angle obviously…  The beer is heading out this week in both cask and keg. Some tasting notes below:
Common Grounds: Triple Coffee Porter 5.4%
A full bodied, decadently smooth coffee beer in collaboration with local roaster Dark Woods. 7 different malts combine with 7 different coffees added at 3 different points during the brew to create a sweet toffee, rich fruit and chocolate depth, accented with notes of vanilla, and hazelnut. A coffee beer designed with texture, aroma and deliciousness in mind, brewed to celebrate locality and a shared philosophy in creative quality.