Big Dipper – 8.3% Double IPA - Magic Rock Brewing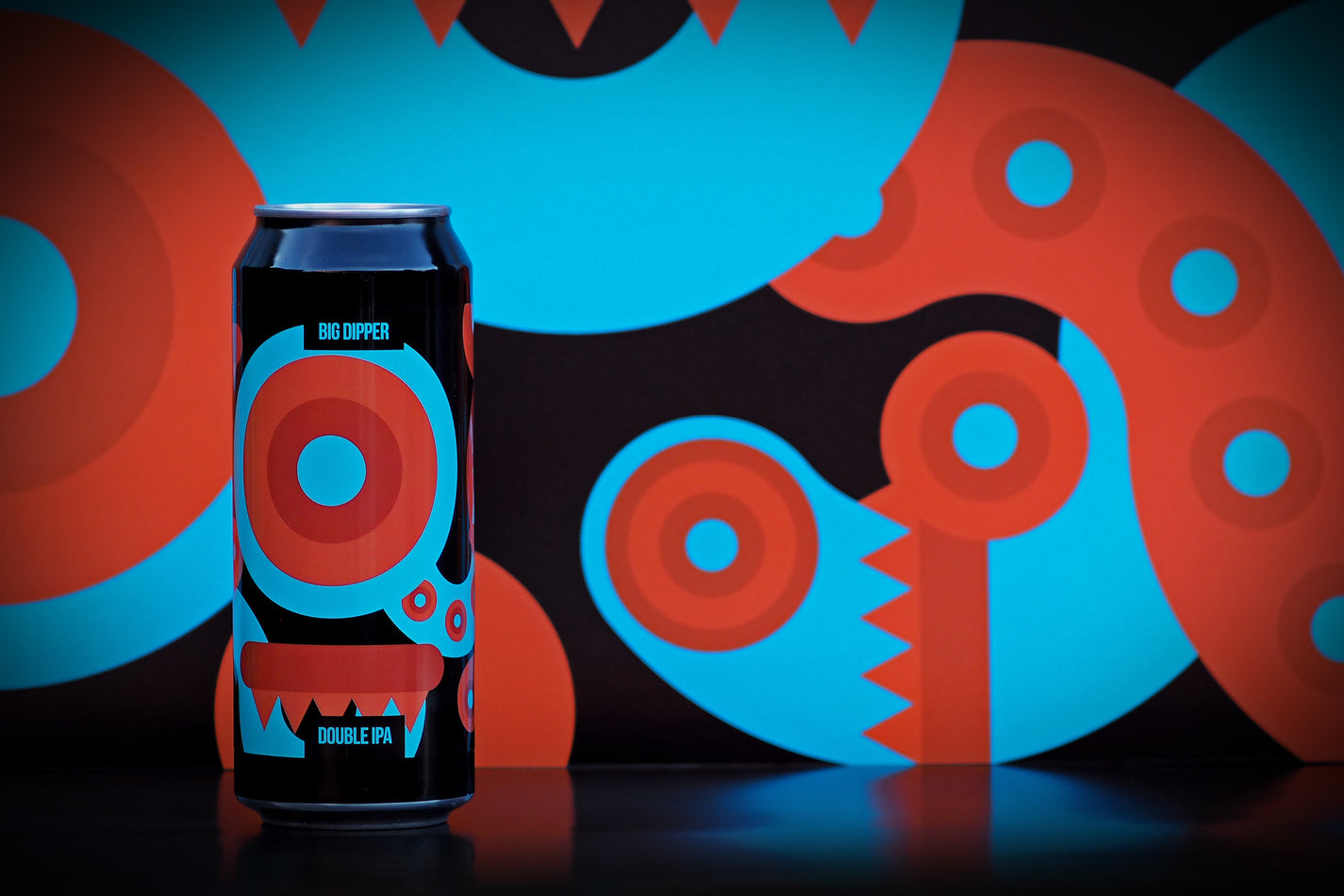 Our last new beer of 2016 is a Double IPA we brewed with our pals from over the Pennines, Cloudwater Brew Co. Paul and Al visited us on the 18th of November for the brew with a new recipe loosely based on the 'Three's Company' collaboration we brewed together for Manchester Beer Week back in the Summer.
The beer will be the third to be packed in labelled 500ml cans featuring Rich Norgate's beautiful artwork and one of the first beers to be put through our newly commissioned centrifuge. We're really pleased with what the process has done for the beer, it's really cleaned up some of the rough edges we were getting previously, removed particulate, and we think it has improved the beer.
In the interests of preserving aroma, flavour and hop character we've left the beer slightly hazy which we think is correct for the style and vegans will be pleased to hear that all of our beer going forward will now be vegan-friendly*

The beer is available on draught in our Taproom now, however due to some labelling delays the new cans will be launched at the Taproom on Tuesday 20th and available to buy in person over the Christmas period. We're going to do our best to get as many kegs and cans as we can delivered to our trade customers this side of Christmas.
Unfortunately due to the way we fulfil online orders we won't be able to release the cans for mail order until the New Year. While there is just about time to get the stock to our fulfilment partner Alesbymail, we're concerned that there just isn't enough time left to get orders delivered before Christmas.
If you can't make it down to the Taproom over the Christmas period the cans will be available online from 3rd January. As we did with the Wayniac, we've also had some tees printed featuring the label artwork to the front and a smaller design on the rear neck, they're available to buy in person from the Taproom.
Tasting notes for the beer are as follows, as always we'd be interested to know what you think.
"A collaborative Double IPA brew with our friends from over t'hills Cloudwater Brew Co. Golden Promise, Wheat, Oat and Crystal Malt were used for a smooth, golden, malty body. A combination of Magnum, Citra, Simcoe, Eureka and Mosaic T90 hops were used in the whirlpool and dry hopping, with additional Citra – 'Cryo Hops™ Lupulin Powder' added in the dry hop. Fermented with US 'Double IPA' yeast the result is a massively fruit-filled DIPA with loads of Mango and Peach aroma & flavour and gravity-defying drinkability. Strap yourself in!"
Malts : Golden Promise, Wheat Malt, Oat Malt & Crystal Malt
Hops : T90 – Magnum, Citra, Simcoe, Eureka, Mosaic. Cryo Hops™ Lupulin Powder – Citra
Yeast : Double IPA yeast
ALC : 8.3%
*apart from our cask beers which will still have isinglass added on racking to satisfy local preference, and of course any beers which contain non-vegan ingredients such as honey in Cross Pollination