Bearded Lady Dessert Edition : 10.5% - Magic Rock Brewing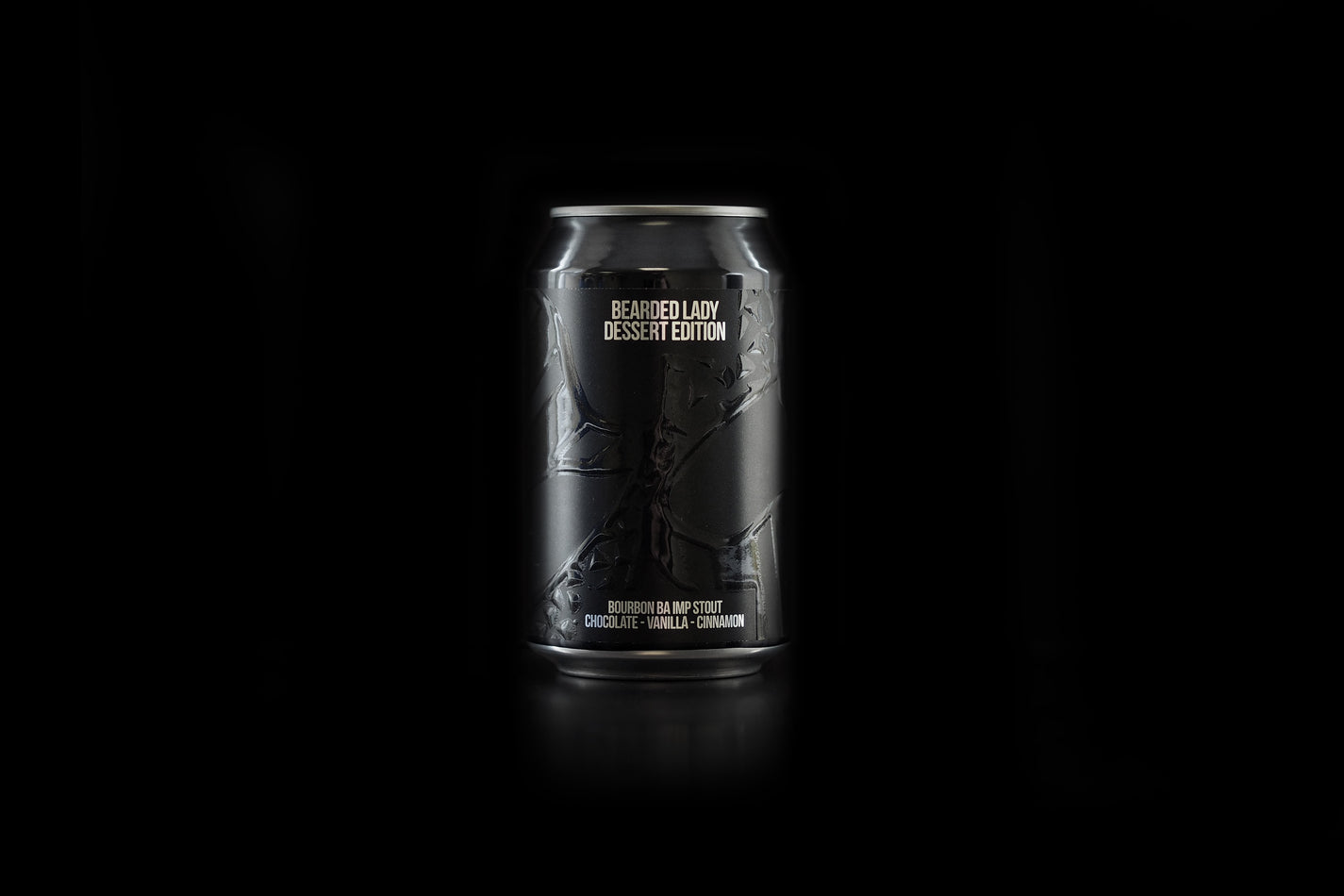 The first appearance of this beer was from a single barrel, aged at our previous brewery site and released in keg back for Copenhagen Beer Celebration 2015. Since then, Bearded Lady Dessert Edition has only been produced once or twice since in small quantity and only seen at special events and on rare occasions in our Taproom.
We had originally intended to release a canned version last year, up to the point where we had the labels ready for packaging, but unfortunately the batch became infected and we had the heart breaking task of pouring 1000+ litres down the drain.
Not to be beaten, we re-brewed the beer and imported a beautiful batch of Woodford Reserve barrels direct from the distillery for it to rest in. The 25 barrels were filled and sat in the tap room for three months ageing before receiving doses of vanilla, cacao nibs and cinnamon, then rested in barrel for a further three months.
The beer is now canned and ready for release and will be on sale Magic Rock Tap from this Thursday 31st August, limited to six cans per customer. Alongside this, we'll also be pouring a single keg of Bearded Lady Dessert Edition Hazelnut, which has further addition of hazelnuts. The online release is delayed whilst we await some additional newly packaged cans for a combined launch, but should be available Monday 11th September (all being well)
/ Tasting notes below:
Bearded Lady Dessert Edition – Bourbon barrel aged Imperial Stout Bourbon with Cacao Nibs, Vanilla & Cinnamon 10.5%
Six month Woodford Reserve Bourbon barrel aged version of our double-mashed imperial stout Bearded Lady. The barrel ageing softens the beer adding rich bourbon, sweet vanilla and a hint of oak. Dessert Edition is further aged with additions of Venezuelan Cacao Nibs, Madagascan Vanilla and Indian Cinnamon, adding satisfying chocolate flavours and a hint of spice. Powerful, robust, intriguing, yet decadently smooth and sumptuous.
Malt : Brown, Carafa Special 3, Chocolate, Extra Pale, Oat
Hops : Hurkules, Magnum, Target
Adjuncts : Cacao Nibs, Vanilla, Cinnamon
Yeast : WLP001
Alcohol : 10.5%