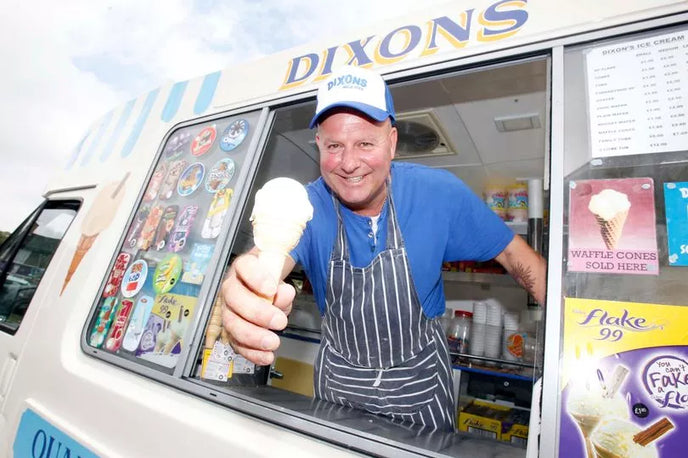 Two things that were particularly important to a young lad growing up in Huddersfield during the late 70's and early 80's were Ben Shaws Yellow Lemonade and Dixons Milk Ice's. Obviously there were other things- BMXs, football, the usual stuff… but two mainstay treats available to youngsters such as our founder Rich Burhouse were the excellent lemonade and the exquisite ice cream made locally in the town. Coincidentally, our brewery is now the former Ben Shaw's pop factory but Dixons hold on local hearts still remains to this day, passing through generations.
Since its inception in 2017, Dairyfreak has become quite the annual tradition! A sweet treat collaborative beer project that the Magic Rock team look forward to every winter. This year is certainly no different and the excitement is palpable at Magic HQ.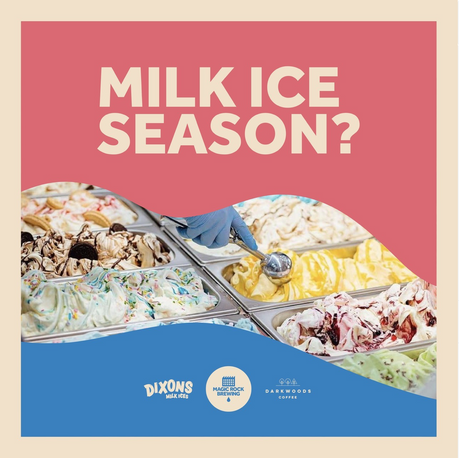 Each and every year brings about a rewarding challenge to give you extra Magic sprinkles when it comes to DairyFreak releases. The opportunity to work with Dixon's wonderful flavour variations is always a taste-filled discovery!
This year, we're bringing the nostalgia filled Dairyfreak beer you know and love but also shipping in extra espresso delights courtesy of other locals Dark Woods Coffee. We've come together as their rich and roasty coffee meets Dixons sweet and milky delights. The results? Well, aren't you about to find that out?...
It's Milk Ice Season! Let's meet this years beers...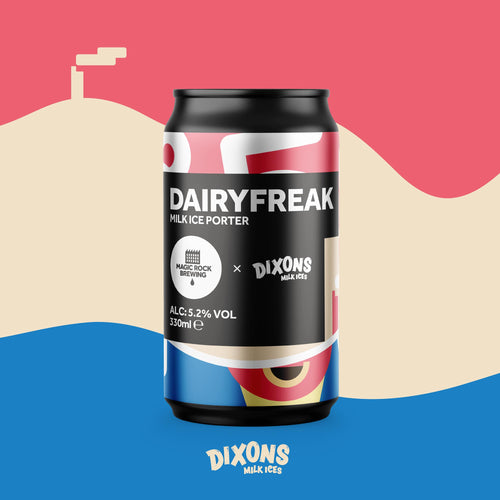 DAIRYFREAK - 5.2% MILK ICE PORTER
Dairyfreak returns! Our sweet and silky collaboration beer with Huddersfield institution Dixon's, makers of unique and delicious 'Milk Ices' since 1961.

In homage to this favourite local treat, we brew a light malty base with Pinhead Oats and Oat Malt to give a smooth and velvety body, add milk sugar before fermentation and a little premium Madagascan Vanilla for a nostalgically sweet and milky flavour.

Just like the Milk Ice, it's a Taste of Its Own!
AVAILABLE HERE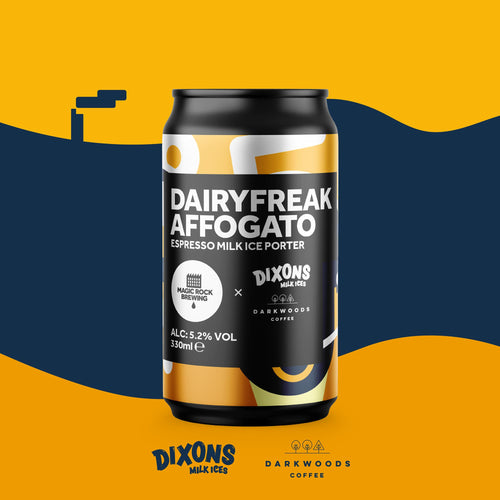 DAIRYFREAK AFFOGATO - 5.2%
DairyFreak with an extra shot of espresso to trickle over your tastebuds. Taking our flavoured collaboration with local favourites Dixons 'Milk Ices' up a notch by adding other fellow local legends Dark Woods Coffee and their specially selected award-winning roasted coffee.

This combination has created truly something special. A velvety smooth body meets sweet vanilla with a rich caramel and dark roasted coffee finish.

Just like the Milk Ice, it's a taste sensation!
AVAILABLE HERE