Un-Human Cannonball Triple IPA... - Magic Rock Brewing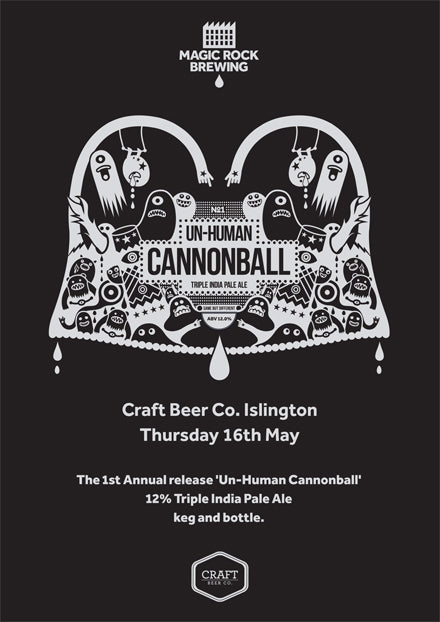 We've noticed some people saying they're bored of hoppy beers recently, if that's you stop reading now.
We love IPA, and have long planned to see how far we could push things by producing a bigger IPA; bigger than Cannonball and even bigger than our double IPA Human Cannonball.
In order for the beer to work we need a really clean fermentation, very careful handling in the brewery both pre and post fermentation and above all the hops to be at their freshest.
We received the last of the necessary hops from the 2012 harvest recently and decided it was now or never. Un-Human Cannonball is a 12% Triple India Pale Ale, with a very pale and simple Golden Promise malt body designed to let the hops shine.
We used a mountain of Centennial, Citra & Columbus whole hops in the hop back and then the most dry hopping we've ever attempted, with 4 monster additions of Amarillo, Centennial, Simcoe, Citra and Chinook in cold conditioning.
Obviously this isn't an IPA to session, its an IPA to savour, an IPA to share with friends, an IPA designed to indulge and satisfy your cravings for Lupulin. As with all hoppy beers and more so with this much hopping, Un-Human needs drinking as soon as possible in order to taste the hops at their freshest and most pungent and experience the balance they give to the beer.
As with our Bourbon Barrel Bearded Lady, Un-Human Cannonball is an annual release, once this batch is gone that's it until next year.
The majority of the beer is destined for special edition 660ml screen printed bottles which our Magic design department has put a lot of love in to over the last few weeks, these will be available from our own website on the 16th of May and the usual sources soon after.
There will also be a small quantity of 20l key-kegs going out to our favourite customers, and the first couple of these will be heading to The Craft Beer Co. Islington on Thursday May 16th. As well as tapping the first keg of this years Un-Human IIIPA, bottles will be available to take away on the night, there'll also be a mini Magic tap take-over, the brewers will be in attendance and we'll be giving out some limited edition Un-Human Cannonball T-Shirts.
We're pretty excited about this one, if you love IPA too we hope to see you in Islington on May 16th…
Tasting notes from the bottle to whet your appetite:
"Once a year we receive the latest crop of hops from the US, intensely aromatic and bursting with potential they're begging to be put to work. With three times the quantity of hops of our explosive IPA 'Cannonball' and even more than our flagship Double IPA 'Human Cannonball' we've created a fitting tribute to the new hop release with this our annual homage to the hop. 'Un-Human Cannonball 'takes IPA to another dimension balancing massive citric aroma, deep tropical fruit flavor and gravity defying drinkability to deliver a hop experience that is out of this world."