Un-Human Cannonball 2017 - Magic Rock Brewing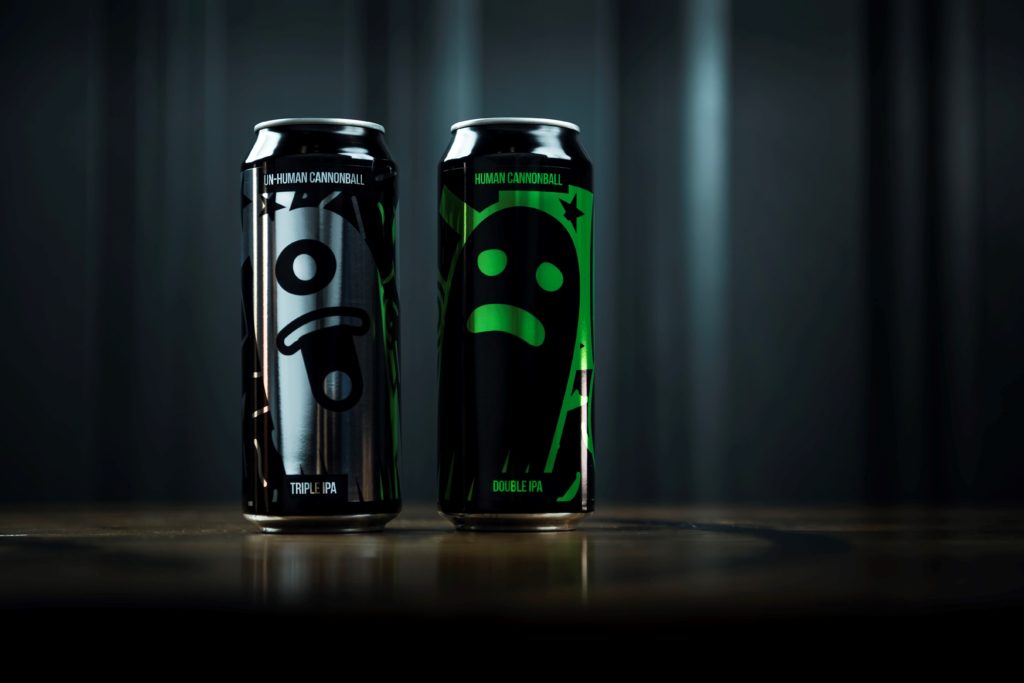 Next Friday 7th April is marked as the release date of this year's Un-Human Cannonball and as with last year we'll be releasing it alongside a batch of its baby brother Human Cannonball.
The packaging format for this year's release was discussed long and hard, and as much as we loved the Un-Human bottles, we didn't particularly love packaging on our very slow manual bottling line. So for this year, for the first time, both beers will be in labelled 500ml cans, which will mean they will both be slightly cheaper (prices below) and there will also be more of them (which we hope you'll agree is good news!)
The first place you'll be able to get hold of this year's releases will be at Magic Rock Tap, Huddersfield from 1pm on Friday 7th April. Both beers will be available for draught pours and growler fills as well as in 500ml cans. There'll be a six can limit in place for the cans for take-out, but no limit on growler fills to take away. On draught, we'll be serving Human Cannonball and Un-Human Cannonball in halves and thirds.
We don't want you drinking too much strong beer on an empty stomach so there'll be delicious food available on site all weekend from ParmStar and Tandoori Naan Hut, and we've got lashings of Yorkshire's finest H2O at our filtered water tap to keep you hydrated.
The cans will be available online via our website from Monday 10th April (1pm), and heading out to the usual stockists in keg and can that week.
The recipes for this year's beers are largely the same but we've made a few minor tweaks (recipes below). As usual the releases coincide with us getting our hands on the new season's hops from the US and this year in addition to T90 pellets both have also used Cryo Hops™ Lupulin Powder in dry-hopping.
Also for the first time since our first brews of Human Cannonball (in 2011) and UnHuman Cannonball (in 2013) both beers will go through our centrifuge rather than being fined and will therefore be vegan friendly. As ever we'd advise both to be consumed as fresh as possible so you can enjoy as much of the lovely hop flavour and aroma as possible.
Un-Human Cannonball 2017: Triple India Pale Ale 11%
Once a year we receive the latest crop of hops from the US, intensely aromatic and bursting with potential they're begging to be put to work. With three times the quantity of hops of our explosive IPA 'Cannonball' and even more than our flagship Double IPA 'Human Cannonball' we've created a fitting tribute to the new hop release with this our annual homage to the hop.
'Un-Human Cannonball 'takes IPA to another dimension-balancing massive citric aroma, deep tropical fruit flavour and gravity defying drinkability to deliver a hop experience that is out of this world. We've done our best for the hops, don't let them down by ageing this beer: please drink as soon as Un-Humanly possible!
Malts : Golden Promise, Wheat Malt, Acidulated Malt, Oat Malt, Golden Naked Oats™, Dextrose
Hops : CTZ CO2 Extract – Cryo Hops™ Amarillo & Centennial. T90 Mosaic, Simcoe and CTZ
Yeast : WLP001
500ml can : £7.00 each (limited to six per customer)
1/3 pint draught : £2.70
½ pint draught : £4.00
1ltr growler fill : £14.00
2ltr growler fill : £28.00
Human Cannonball 2017 : Double India Pale Ale 9.2%
Meet Cannonball's big brother; we used more malt, more hops and more magical conjuring to crank up the flavour of our explosive IPA 'Cannonball'. Get your taste buds ready for massive pine and candied orange aromas combined with bitter/sweet grapefruit and mango flavours all complemented by a deeply composed, satisfyingly malty base. Ever wondered what it feels like to be shot out of a cannon? Here's what it tastes like.
Malts : Golden Promise, Wheat Malt, Acidulated Malt, Oat Malt, Golden Naked Oats™, Dextrose
Hops : CTZ CO2 Extract – Cryo Hops™ Citra & Centennial. T90 CTZ & Chinook
Yeast : WLP001
500ml can : £6.00 each (limited to six per customer)
1/3 pint draught : £2.30
½ pint draught : £3.45
1LTR growler fill : £12.00
2LTR growler fill : £24.00