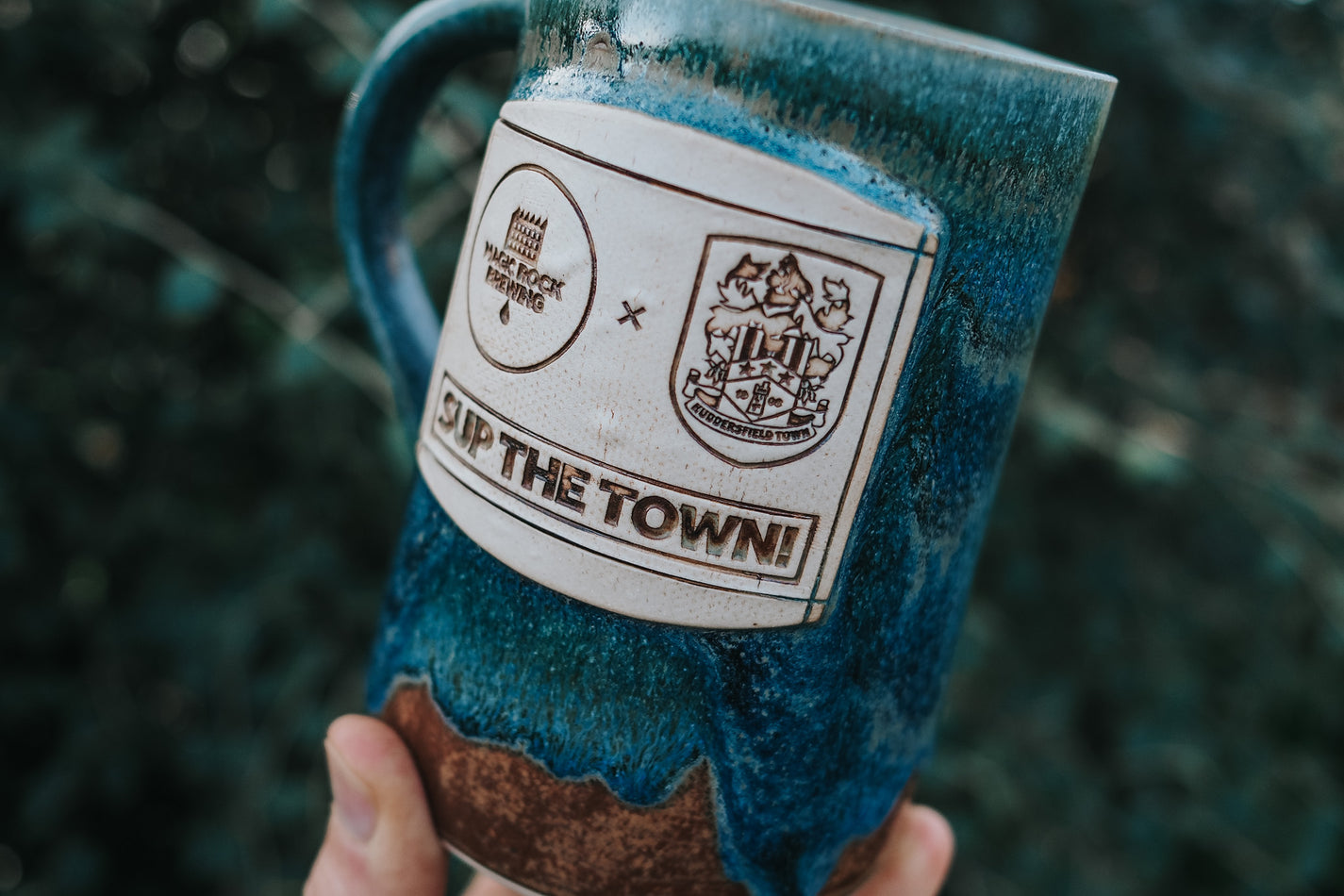 Our partnership with Huddersfield Town A.F.C. is just another step on our journey to celebrate all things Huddersfield! We are so proud of our locality and have been privileged to call Huddersfield our home for over a decade, and we're filled with love at the support from our fellow Hudds folk.

Therefore, at this particular time of year, we felt the need to create some extra special merchandise to celebrate our locality, and who better to commission than two of Huddersfield's own: Peter O' Toole, a lifelong HTAFC fan and talented illustrator and Nigel Hoyle, a creator and master craftsman of unique, handmade ceramic artworks from just down the road in Shepley.
MRB x Peter O'Toole - Peter O'Toole Collab T-Shirt
 Pete is a Huddersfield lad through and through, about as Huddersfield as it gets, especially when it comes to football!
A long time friend of Magic Rock, you have probably seen Pete's work over the years; his unique illustration style is influenced by advertising and printing techniques from the 1950s. Peters work has been drawn upon for our very own Dairyfreak collaborations with Dixons and, most recently, a mural commissioned by Town in partnership with The Cowshed loyal within the Magic Rock Brewing Stand. So it is fair to say that whenever we think of Town, we think of Peter O'Toole. His passion for football has taken him far and wide, but when combined with all things Huddersfield, that is where the magic shines through! After the various crossovers, alongside Pete's other incredible work with HTAFC, another collaboration seemed almost natural and simply inevitable.
Taking inspiration from the Cowshed Loyal, who call the South Stand home, Peter collected pictures and inspiration from friends and fans to create this unique illustration: A perfect image representing HTAFC x M.R.B. with a dose of O'Toole flair for good measure.

Our designer, Rich Norgate, loved it so much he immediately put through an order for t-shirts just in time for Christmas: grab a limited run top below:
https://magicrockbrewing.com/products/peter-otoole-collab-t-shirt
MRB X HTAFC X Nigel Hoyle Ceramics - Sup The Town Tankards 
 "I live in Shepley where a lot of my friends are big Town fans, so when Magic Rock Brewery approached me, it was a privilege to work with them to produce these special Tankards."
Located at his studio, Scipelei Pottery in Shepley, Nigel Hoyle produces beautiful and unique works of art, which he displays and sells at local venues throughout Yorkshire. We first spotted Nigel's work at the wonderful O'Briens bottleshop in our second home Holmfirth, and instantly fell in love. We knew these tankards would be the perfect item for a passionate Town Fan. The ideal vessel for sup all those Town Lagers (or pints of Tea!) throughout the season and beyond!

Scipelei Pottery Homeware pieces are designed to be used as everyday items around the home. All pieces are hand-thrown and fired to stoneware temperatures ensuring durability and will withstand outdoor use; they are even dishwasher/microwave proof. Individual and unique, yet practical and sturdy, crucial whilst watching the football and all the emotion that comes with it!
Rutile slip is then trailed around the branded tankard before being dipped in three variations of a satin glaze, blue and white, of course, and then brown for that rustic look. This creates various landscape effects around the surface. Each pattern is different, each tankard unique and individually numbered! The tankards are extra special, and thanks to Nigel's magic, are available to purchase below:
https://magicrockbrewing.com/products/mrb-x-htafc-x-nigel-hoyle-tankard
 We're reyt chuffed with the final results and feel honoured to have worked with such talented local artists. I'm sure this isn't the last you've heard from these two, but for now, we hope you are as pleased as we are.
Team Magic
x