The Magic Spanner & The Grand Depart 2014... - Magic Rock Brewing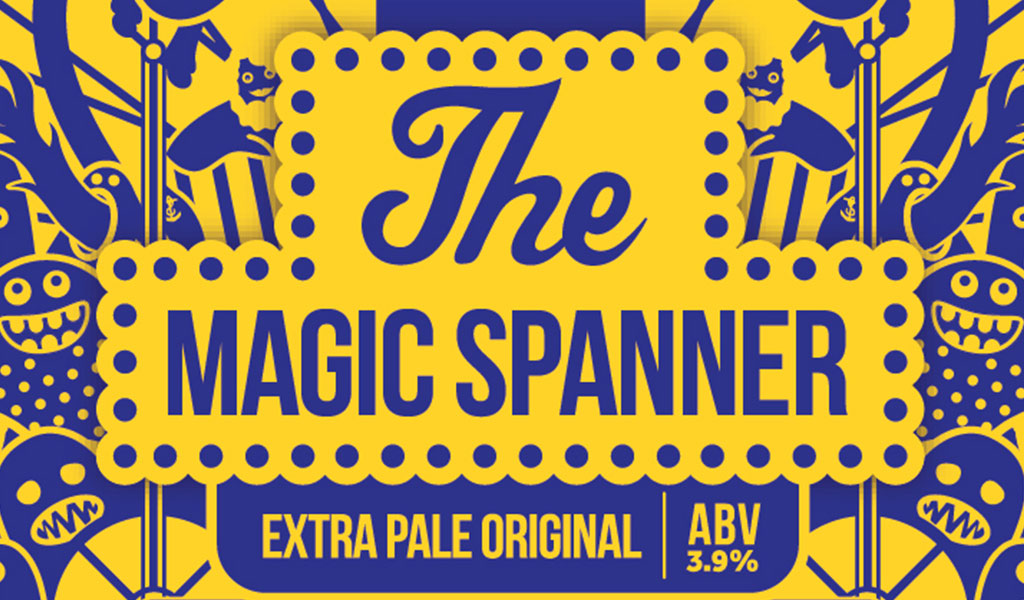 Just over 10 days to go until the worlds largest annual sporting event comes to our little part of the world and we're getting pretty excited. There are some big cycling fans at the brewery and we really couldn't miss marking the Tour De France passing through our home Town.
You might remember we did a practice batch of our tour beer 'The Magic Spanner' last year which we launched at Leeds International Beer Festival in September? Now with the Grand Depart just around the corner its time to unleash the main event!
This Thursday (26th June) at 6pm we'll be heading over to launch 'The Magic Spanner Bar' in the cells at Leeds Town Hall in collaboration with our friends at Leeds International Beer Fest and the lovely folk at North Bar, Leeds. That's right a Magic Rock bar right next to the very place that this years 2014 tour will start, right next to French TV's stand and less than 30 yards from the start ramp… pretty cool eh!?
The bar which will run every day from Thursday until the tour starts on Saturday 5th, will be open from 6pm on weekdays and 12pm on weekends and open till late. The Magic Spanner beer will be just £3.00 a pint for the duration and there'll also be a small but perfectly formed selection of Belgiums finest beers and other drinks hand picked and served with a smile by North Bars dedicated staff.
And the beer? An invitingly pale and refreshingly crisp 3.9% ale featuring Golden Promise malt and judiciously hopped with a blend of UK and US hops for a tantalising aroma, and satisfying flavour. Our tribute to the greatest race in the world's visit to our home county and the perfect reward for long days in the saddle.
Magic Spanner Merch'
In addition to the above we are pulling out all the stops with some quality Magic Spanner branded merchandise. We'll have a small quantity of limited edition Magic Spanner Musettes (feed bags) containing a Magic Spanner T-Shirt, a Magic Spanner branded Specialized 'Big Mouth' water bottle and a branded Magic Spanner cycling cap made by the good folk at Walz caps in California. We'll also shove a Magic Rock sticker in for your trusty steed and a drip mat for erm.. putting your beer on
Here's a sneak preview of the kit, better images to follow when the caps land tomorrow…
The Magic Spanner Musettes will be £30.00 ea while stocks last, and available exclusively from The Magic Spanner Bar at Leeds Town Hall from Thursday at 6pm and the Magic Spanner bar in Holmfirth we are running in conjuction with Gonzo Bar on Saturday 5th and Sunday 6th July. Please note that the pack is only available as a complete set and T-shirts are sized Sml, Med, Lrg and XLrg, please let the guys at the bar know which size you want. If there's any left we'll put them on the web shop the following week.
On Saturday 5th
If you haven't decided where you're watching the race on the Saturday the 5th yet we'll also have the guys from Rollapalooza just outside the bar running live roller racing for all comers. Fancy yourself as the next Cavendish or Kittel? here's your chance to walk the walk..
On Saturday 5th and Sunday 6th
If you're heading into the countryside to watch the action on one of the major climbs at Holme Moss there will be an additional pop-up Magic Spanner bar in the centre of Holmfirth on Saturday and Sunday run by Luke and his excellent team from Gonzo Bar. Gonzo bar itself will also have lots and lots of lovely beer and a limited quantity of the Magic Spanner musettes will also be available.
We can't guarantee the weather but we can guarantee you quality beer and a magical atmosphere over the next 10 days hopefully you'll stop by and help us celebrate 'La Grande Boucle' coming to town, beer and bikes, what could be better?
Oh and if you're wondering about the name… The Magic Spanner: The situation where a mechanic in a support vehicle will appear to be making adjustments to the bike but in reality they are giving fatigued riders a break by holding onto the car and getting a massive push-off when the commissaires get too close.
Some more info from North on what to expect here