The Big Top, India Red Ale... - Magic Rock Brewing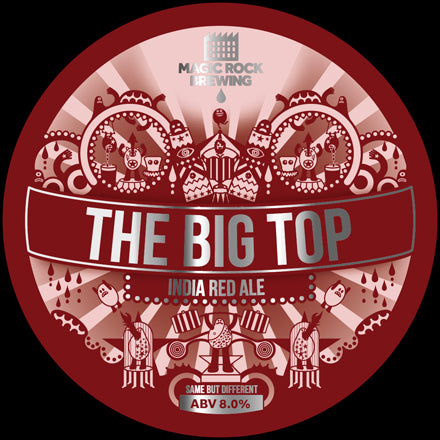 Its new beer time again! a couple of people have suggested to us over the last few months that we should do a bigger version of our Red Hop Ale 'Rapture', we thought that was a good idea too, so today we're brewing our India Red Ale, 'The Big Top'.
The beer will feature a similar malt bill to Rapture including some Crystal and Carafa Red to deliver the colour and sweetness, but will be much higher alcohol wise at around 8%.
As usual the beer will be hopped heavily in our hop back and conditioning this time with a combination of Australian hops which we're using for the first time.
This first batch of the beer will be ready in around 3-4 weeks and is all destined for keg, hope you're looking forward to tasting it as much as we are…
The Big Top: India Red Ale 8.0%
A deeply red, raucously hopped showstopper of a beer. We took our Rapture red hop recipe and turned the volume up to 11. A kaleidoscope of speciality malts deliver a robust yet smoothly sweet mouth feel while sack loads of Australian whole hops bring tropical fruit flavours of lychee, papaya and passion fruit. For the grand finale we introduced waves of magic aroma by dry hopping the beer with kg after kg of those same big and beautifully pungent Aussie hops. Roll up, roll up, The Big Top is in town!