The Beagle, Meet The Brewer... - Magic Rock Brewing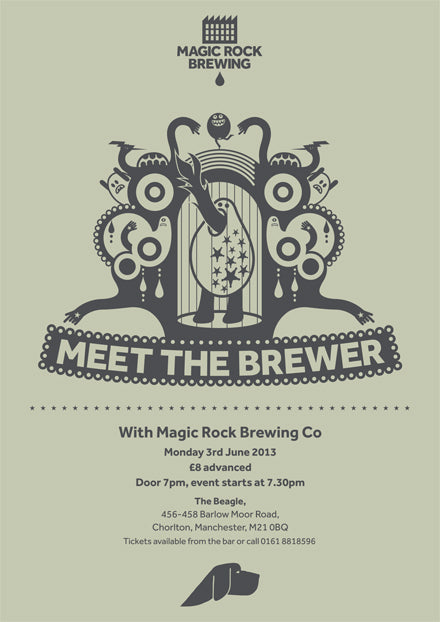 A quick blog to let you know that we are doing a Meet The Brewer at The Beagle, Chorlton next Monday the 3rd June (from 7pm).
The Beagle is owned by the same people behind the excellent Port Street Beer House, and puts beer and food matching at the core of its ethos. In their own words The Beagle is "A beer house and dining room, a mongrel cross between your local pub and your neighbourhood restaurant".
The venue has gained lots of great reviews in its first year, and we're delighted to be the first brewery invited to do an event with them. We're gonna be bringing along 9 different beers on the night including one of only 5 kegs we made of our 12% Triple IPA, Un-Human Cannonball.
It'll be the first time all three versions of Cannonball have been on the same bar in the North and there'll be at least three of us from the brewery around to discuss the beers and answer any questions.
There are tickets still available for the evening so if you're interested in coming, give The Beagle a call: 0161 8818596 or email them: bookings@beaglesabout.com
A full list of the beers which will be on is below, see you next Monday!
Cask
Curious 'Original Pale Ale'
High Wire 'West Coast Pale Ale'
Dark Arts 'Surreal Stout'
Keg
Cannonball 'India Pale Ale'
Human Cannonball 'Double India Pale Ale'
Un-Human Cannonball 'Triple India Pale Ale'