Simpleton, Session IPA - Magic Rock Brewing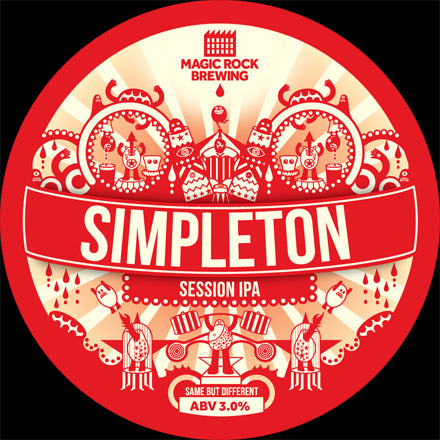 Our first new beer of 2013 is a version of a style that's becoming increasingly popular at the moment a 'Session IPA'. The idea with these beers is that they're heavily hopped to resemble US style IPA's in both flavour and aroma, but very low in alcohol to allow you to enjoy as many pints as you like in a sitting.
The difficulty for us making this beer is that low ABV beers tend to be thin in body making them taste a bit watery and unsatisfying. We brewed a session IPA last year and were please with the way it came out but thought there was room for improvement. With this in mind we've changed the malt bill slightly and made some changes to both the mash schedule and water treatment.
The beer will be hopped with Cascade and Simcoe whole cone hops in the hop back and dry hopped with Citra and Galaxy in conditioning, some simple tasting notes below…
"Simpleton, Session IPA 2.6%
A beer lacking in alcohol can't be really flavourful as well can it? Common sense says it won't have a big aroma full of passion fruit and mango; it wouldn't have a well rounded mouth feel and crisp bitterness and there's no way it'd have satisfying IPA style depth of flavour…. is there? Think again, this is a beer totally devoid of common sense, the jester in the pack, a complete Simpleton…"
Simpleton, Session IPA will definitely be kegged, possibly casked and maybe bottled, and should be ready in a about 3 weeks, hope you like it!