Rock Star 2012 / Evening Star - Magic Rock Brewing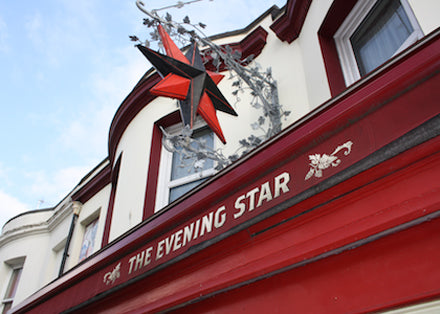 Its hard to believe but its nearly a year since we brewed our collaborative beer Rock Star with Dark Star Brewing. If you remember Rock Star is a US style brown ale combining lots of lovely hop aroma and flavour with a fully rounded malty mouth feel. You can read about the original brew day here.
We thought the beer turned out really well and only wished we'd brewed more of it. With that in mind we put our heads together with Mark from Dark Star and decided that this year we'd brew the beer twice and firstly on Dark Star's 45bbl kit (3 times as big as ours) and again on our own brew kit so that more people would get to try it.
The Dark Star brewed Rock Star beer will all be destined for cask and as originally intended slightly weaker at 6.0%. We're heading down to do the brew on Wednesday the 17th October so expect to see the beer about 3 weeks after that. Dark Star will be branding and selling this batch so if you're reading this wondering where you can get your hands on it, check out the usual Dark Star outlets.
We will then be brewing the same 7% version in Huddersfield as we did last year, but that batch will be kegged and bottled (providing we are up to speed with our new bottling equipment). Look out for both versions in the near future and let us know what you think.
While we're down in East Sussex we'll also be doing a Meet The Brewer event at one of our favourite customers, (and Dark Stars original brewery tap) The Evening Star. Matt and Karen from the Evening Star have been great supporters of Magic Rock over the last year or so even coming all the way up from Brighton for our launch night last June, so we're delighted to repay some of that support with an event at the pub.
We've got lots of our regular cask and keg beers lined up for the evening as well as some new beers and the odd barrel aged special (full list below) If you're in the Brighton area on Thursday 18th October come down from 7:30pm and say hello!
Cask
Curious
Curious NZ
Rapture
High Wire
High Wire NZ
Dark Arts
Keg
High Wire
High Wire NZ
Dark Arts Red Wine Barrel
Magic 8 Ball
Cannonball
Tequila Barrel Cannonball
The Big Top