Rainbow Project 2016 Collaborations - Magic Rock Brewing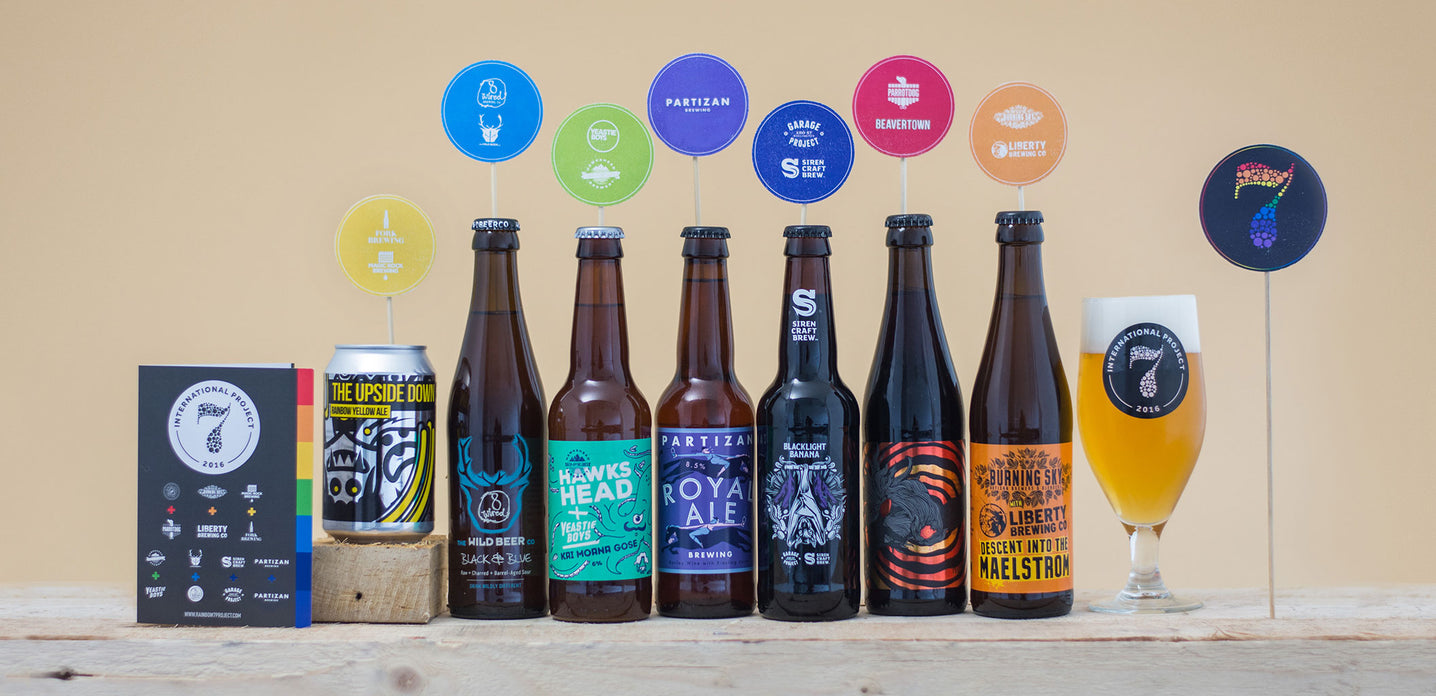 Here is an extended blog explaining the Rainbow collaborations in a little more detail, all seven beers will be launched at our taproom on Saturday 17th September at 12pm alongside 14 extra UK beers and 7 New Zealand beers (shipped in especially for this event). For a full list please click here, we will also have full cases of the mixed beers available to buy on the day, priced at £35 each. They will also be available online via Honest Brew.
For more information about other Rainbow events and more details about the project check out the handy micro site here.
—————————————————————————————————————
Red | Beavertown & Parrotdog
Name: Universal Mind
ABV: 10.5%
Brief Description/Style: Adambier
Story: Originating in Dortmund, it's no longer brewed commercially there. Digging in the history of the style, we found that it was a 10% dark beer aged in wood for a long time (a year or more). It was slightly smoky, hoppy and top fermented.
Our version is a deep burnished red in colour. Rich, soft, bitter and subtly smoky from the addition of peated malt then barrel aged for 2 months in fresh Marsala barrels giving an unctuous, plummy roundness to the finished beer.
——————————————————————————————————————
Orange | Burning Sky & Liberty Brewing
Name: Descent into the Maelstrom
ABV: 6.66%
Brief Description/Style: Eclectic borderless beer without category
Story: Due to the geographical differences and the cost involved in Liberty Joe coming over (not to the mention the fact he was commissioning a new brew house), our collaboration was done via a series of emails, taking and disregarding various ideas until we arrived here.The beer is an amalgamation of our brewing styles, taking Orange as the starting point, resulting in a fairly eclectic borderless beer without category. Oranges are not the only fruit (in this beer).
Pilsner and wheat malts started the process off, soon to be joined by Amarillo, Moteuka and Nelson Sauvin hops and fermented by an Ardennes yeast strain. The young beer was then aged in freshly emptied white Burgundy barrels to accentuate and compliment the New Zealand hop varieties.
Finally the beer was finished in tank with orange zest, pink grapefruit and a big healthy dry hop addition of Nelson Sauvin's and Moteuka.
—————————————————————————————————————
Yellow | Magic Rock & Fork Brewing
Name: The Upside Down
ABV: 6%
Brief Description/Style: Kettle-soured, tropical fruit-Witbier hybrid with flavours of coriander, turmeric, passion fruit and mango.
Story: We picked out the colour yellow and Nick and Kelly met up at this year's CBC in Philadelphia to put their heads together & scheme something yellow and delicious. After some deliberation we settled on a kettle-soured, Tropically Fruity Wit hybrid with a couple interesting twists. The beer starts with a complex malt bill featuring our usual Golden Promise base malt but also a large proportion of Wheat, Rye and Oats. It's then kettle soured to a PH of 3.6 using a pure lactic strain.
Coriander and Turmeric were added into the boil to add zest, spice and colour and Citra and Equinox hops added to the whirlpool to add tropical flavours to the body of the beer. The beer was then wholly fermented with 'Brett Trois' a recently re-classified Saccrharomyces strain originally thought to be Brettanomyces and "used traditionally for wild yeast-like fermentations, producing a slightly tart beer with delicate characteristics of mango and pineapple" During (and post) fermentation the beer was then dry hopped with more Citra and Equinox as well as Mosaic and Simcoe to deliver a deeply tropical hop aroma and flavour augmented by the addition of both passionfruit and mango juice.
After bumping a few ideas around between us we settled on a contemporary name which we thought considering the relative geography of the breweries worked well.
—————————————————————————————————————
Green | Hawkshead & Yeastie Boys
Name: Kai Moana Gose.
ABV: 6%
Brief Description/Style: Gose with Kai Moana, NZ hops and green gooseberries
Story: A refreshingly tart, salty and fruity gose made with Kai Moana (Maori for seafood) NZ hops and green gooseberries. We drew the colour green again!!! And that inspired thoughts of the sea surrounding both island nations. We sourced the finest oysters from Loch Fyne, native green lipped mussels from New Zealand and Himalayan rock salt, lightly hopped with Nelson Sauvin and Motueka all brought together by a big late addition off green gooseberries. Sit back and enjoy the colour green.
—————————————————————————————————————
Blue | Wild Beer Co & 8 Wired
Name: Black and Blue
ABV: 5%
Brief Description/ Style: Raw + Charred + Barrel-Aged Sour
Story: Raw sour ale brewed with green, black and white pepper corns in the mash, no hops, no boil, wild cultures fermented and aged in re-charred bourbon barrels for 6 months. Ideas flew back and forth across the equator centered around the colour Blue: using e numbers, icebergs, berries, potatoes, even a dye used in brewing which turns your pee blue (sadly poisonous…)! But in the end we went far more abstract and took the classic French black & blue steak as our inspiration.
Thus was born Black and Blue – a raw ale, un-hopped and un-boiled, fermented and aged in retoasted bourbon casks for an extra charred flavour alongside brisk acidity from fermentation with our house cultures in barrels for over 6 months. Every good steak needs a sauce to go with it so we introduced white, green and black peppercorns into the mash to accompany our raw ale.
—————————————————————————————————————
Indigo | Siren Craft Brew & Garage Project
Name: Blacklight Banana
ABV: 9.2%
Brief Description/Style: Imperial Stout with Banana, Molasses and Bourbon Barrel Aged Coffee
Story: For this year's Rainbow Project collaboration with Garage Project we drew the colour indigo. After much research on both sides the idea that excited us all most was that of the Blacklight Banana. Ripe bananas uniquely glow bright indigo under UV lights, with researchers putting it down to the unique way that bananas break down chlorophyll as they ripen. But why? One possible theory is that it makes the bananas visible as a food source to animals that see in UV range, like bats.
In designing the beer we included 200kg of Molasses, the viscous by-product of refining sugarcane or sugar beets into sugar. Next up: bananas. We brought in some 100kg of fresh bananas, then blow-torched them by hand to produce a well-rounded, caramelised banana flavour in the beer, which we think tastes true to the fruit (in early tests we'd used a traditional German wheat yeast strain which gave a sweet, candy-like banana flavour, so we ended up blending it with our house Vermont strain to tone that effect down). These are helped along by 100kg of fresh banana purée As a final touch we included some bourbon barrel aged coffee, which we've had in barrels since early last year. This is yet another Rainbow Project that we are truly proud of, we hope that you all enjoy tasting it!
—————————————————————————————————————
Violet | Partizan
Name: Royal Ale
ABV: 8.5%
Brief Description / Style: Barley Wine
Story: Violet is often associated as the color of nobility so we looked at a few royal or coronation ales from 1953 which were quite varied but essentially barley wine-esque for the most part. To add an extra degree of nobility we boosted the sugar content with some riesling grape juice, riesling being a grape associated with noble rot. Unfortunately Panhead were unable to brew with us or be involved in the project this year due to a lack of time on their part, believed to be mainly due to there recent acquisition by a larger brewery/ drinks brand.
Photos by Honest Brew.