RACE BLIND: TRANS-PROVENCE 2017 - Magic Rock Brewing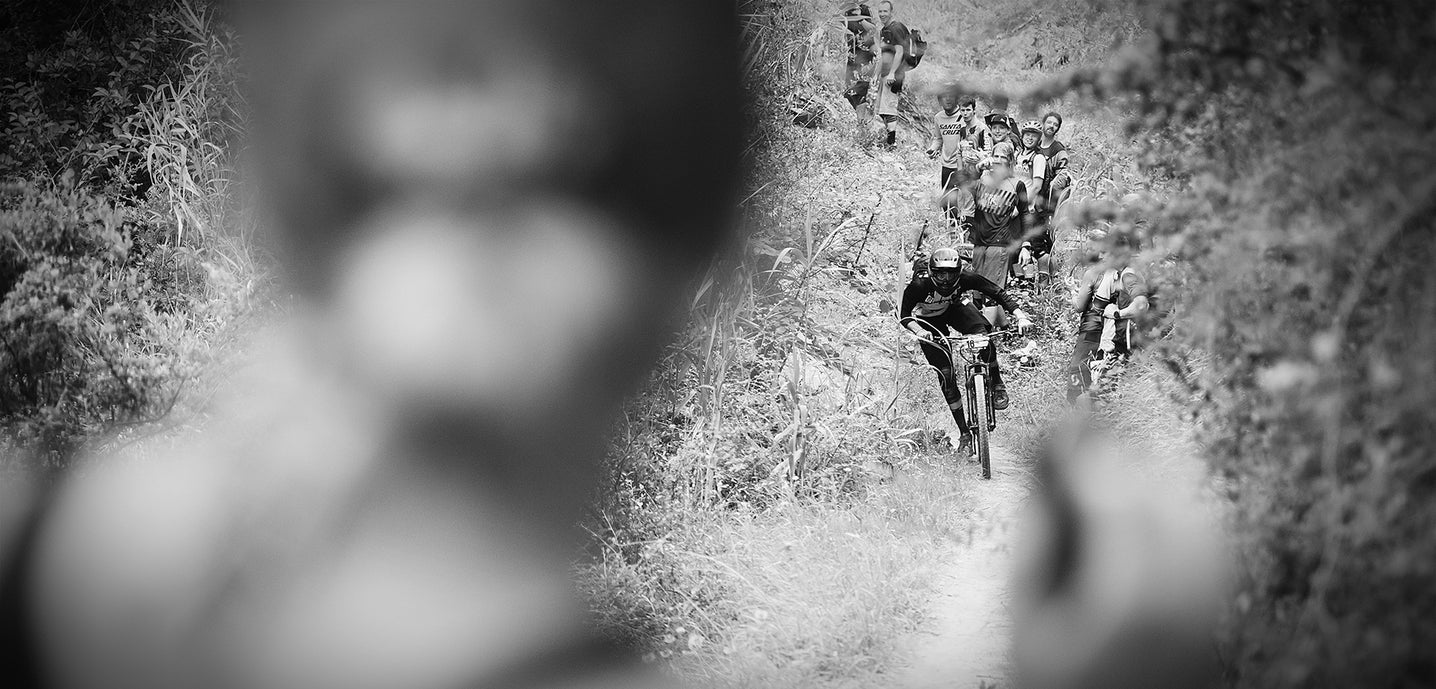 The 9th edition of Trans Provence, a well-established mountain bike adventure race from Embrun to Menton in Southern France was held last week.
Over the 6 days riders would tackle 24 timed stages, predominately downhill, cover over 300km (they need to ride to and from the stages) and descend roughly 18,000m. All the riders and support staff sleep in tents in between stages and race the stages blind, meaning the first time they ride them is the first time they see them.
Our one man design department Rich Norgate was heading out this year to see how he'd fair racing the event, having worked as a marshal on the race in the past. Over to him to fill us in….
I felt it was a good time to give the race a go. I've known Ash and Melissa for a long time  and to some extent felt prepared for the effort it takes to complete this monster, however I slightly underestimated a couple of things, mainly the June sun that beats down on Provence. 
Trans Provence for me is more about the journey than the racing, it's still a race but you have to try detach yourself from the focus required and enjoy the surroundings. We really do travel through some inspiring and stunning landscape.
A week out from the event I was involved, like no doubt many others, in the pre last minute stress of getting the bike in perfect running order. Orange Bikes helped out with the bike and thanks to Sandy Plenty at the Trailhead bike shop I was running a solid tyre set up – risk of punctures is one of the biggest issues in Provence as the terrain gets pretty rocky and sharp. 
We supported this year's race with a bespoke re-labelled beer called Denivelation: (noun Francophone term meaning difference in elevation or height drop) T-P Pale (using our popular west coast pale ale High Wire – see picture above). It's great for us to be involved with events like this and personally I have a strong relationship with the race having worked on it in the past. Seeing people in the evening enjoying our beer was fantastic. A big part of the race is the down time in the camp, whilst the majority of the people aren't looking for a big night it's essential after such a long day in the mountains to try and relax so sipping cold ones with my fellow racers talking about the day was a highlight. 
The race itself started off pretty good, I wasn't sure about my pace coming into the event as I'd had a few years stepping back a little from the mountain bike. The old saying rang true though 'you never forget to ride a bike'. After a steady day 1 I was sitting 3rd in amateur class and 13th overall. The enormity of the event is a little overwhelming at times, the temptation to push 100% all day is easy but having seen the race unfold so many times I felt keeping it consistent and rubber side down might be the best tactic. Not only do you need to preserve the body from the brutality of stages but you need to get the push iron through with little to no mechanicals. 
he rest of the week became somewhat of a blur, you're living in this little bubble of 'ride, eat, sleep, repeat. I had a few issues here and there but nothing too heavy, by mid-week I had a fairly dizzy day on the bike, I was struggling with the heat. Luckily everyone else is in the same boat, and encouragement wasn't hard to find. Firstly I'd just look around at the landscape and failing that Jamie and Stu – who were my riding buddies for the week – were on hand to bring things back to reality. 
With 2 days left I was still sitting in 3rd, but times were getting tight. I was steadily moving up the overall too. Being honest I was thinking about a podium finish however I was also happy with how I was riding. Mountain biking can be funny at times, you can be riding a little rough but still be going fast, this isn't really a nice feeling on the bike. The optimal stoked feeling is when you're riding smooth and strong. I had one particular ride on day 5 when everything just clicked… stage 20! This was a particular stage I thought I could do well on, but having seen a good friend Oli go down hard a few years ago I knew it could bite if I pushed too hard. The feeling you get when you hit everything perfectly on the bike is hard to describe. With the danger of sounding a little too out there; it's like being in a meditative state. This is always relative though, someone will no doubt always go faster but this doesn't matter so much. I got to the bottom of the stage and genuinely didn't care about my position, I had one of those rides that I'll remember for a long time. I think we all ride bikes for that feeling, regardless of racing or not. 
Arriving at the beach in Menton, I was filled with a sense of achievement. The body and mind took a battering throughout the week so to come through with only a few issues I was happy. To some extent the race goes beyond a race, it's a journey and adventure, everyone wants everyone else to get through it. Trans-Provence is a truly remarkable event. If you blinked you'd almost miss this crazy little community racing through Provence. As quickly as the sound of racing tyres cuts through the stages the tranquillity of the mountains is restored. These giant mountains are a special place to be, to be here with like-minded people only adds to the mystique and draw of the event. I had one mantra all week that was taped to my bike…
Thank you to the Smith family, the camp staff, caterers, mechanics and media team. Thanks to all the riders I met throughout the week, we definitely shared so many experiences whether it high or low. 
In the end I finished 3rd in my class and 11th overall. I was happy with this but in later life I'll no doubt forget the position and remember the smaller more significant things. 
I'd like to thank Orange Bikes, Hope Technology, The Trailhead, Fabric CC and Sam Needham for the photos.
Sam is going to put together a slideshow that encapsulates the adventure and journey, this will be shown at our Bike Day in the Taproom on the 9th of July. Click here for more info
Also rich wore our new bike jersey, they're now available here
Bikes are great, get out there and explore.