OT Rocks / Craftwerk... - Magic Rock Brewing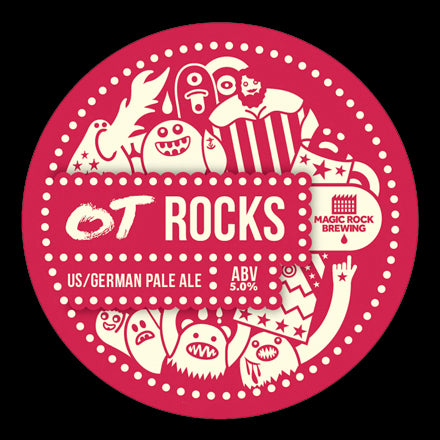 We were asked by our Swedish importer Great Brands to brew a beer to celebrate the 20th Anniversary of their Stockholm Bar 'Oliver Twist' earlier in the year. Established in 1993 as well as importing US Craft beer for over 15 years the Oliver Twist has been a great champion of UK cask beer over the years, (it was the first pub outside the UK to receive Cask Marque accreditation in 2001) and more recently has been the place to regularly find our beer in Stockholm.
We were very happy to help mark the occasion and after some discussion with part owner Jörgen,  it was decided we should brew something that reflected the OT's location. The bar is located on the island of Södermalm which historically had as many as 14 breweries operating. These breweries were predominantly started by German immigrants and so we thought it would be a nice idea to brew a beer that referenced this brewing heritage but was still recognisably Magic Rock.
The beer we produced is a 5% US/German style Pale Ale, using a UK Pale Malt/German speciality malt bill, Centennial whole hops in the hop back and then dry hopped with Hallertau Mittelfruh and Centennial in conditioning. We kegged it this week and we think its tasting great, really fresh and easy to drink with a light body and herbal/citrus almost ginger beer hop flavour, which should make for perfect summer drinking.
The majority of the beer is heading to Sweden next week but we have kept some back to be sold in the UK as 'Craftwerk' US/German Pale Ale, we hope you like it. If you're ever in Sweden be sure to go check out Oliver Twist http://olivertwist.se/en/  apart from it being a great bar they're lovely people and if you can make it this year have a whole host of special beers, guests and events lined up for their anniversary year