November 2012 Update... - Magic Rock Brewing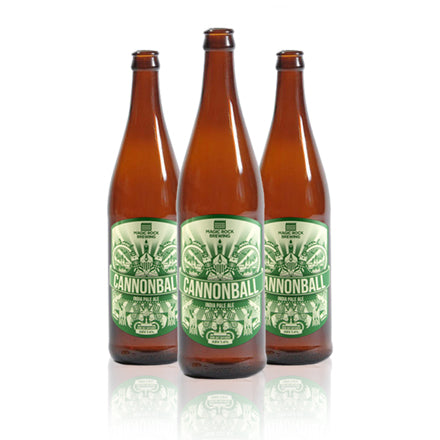 Latest news from the magical world of Magic Rock…
Bottles
After what feels like an eternity our bottling machine arrived this week and we can finally get on with putting the beers back into bottles. The machine is a manual 4-head counter pressure filler, which will allow us to bottle pre-carbonated unfiltered beer in exactly the same state that we keg it. The upside of this is that we should be able to get our hoppy beers tasting exactly how we want them, bursting with fresh hop aroma and flavour. The downside is that the bottling process will be very labour intensive, so we're not sure quite how much production we'll have until we're up and running.
We'd really love to be able to produce more bottle-wise, but we're a little limited for space at the brewery and while we're expanding as quick as we can… investing in new tanks and process improvements etc… an automated line is just out of our reach for the time being. We had to make the decision a few months back on whether we could sacrifice the quality and control over our bottled beer to have larger production quantities via contract bottling and we couldn't.
The good news is that this machine will give us full control of the process and plenty of flexibility to bottle small runs of our more experimental beers. It should also allow us to bottle larger sizes such as 660ml US 'bombers'. We expect to have some stock of bottles by the end of the month for customers within our normal delivery areas, customers outside those areas should contact Zak at Beer Paradise who will be wholesaling the bottles for us. We'll get some bottles up on the webshop for retail customers as soon as possible.
New Tanks
On the subject of new tanks we expect to receive our 7th and 8th 25 hectolitre cylindroconical fermenting/conditioning tanks next week. These will take the tank capacity at the brewery up to approximately 200 hectolitres, which might sound a lot but to put it into perspective its half the capacity of just one of BrewDogs new 400 hectolitre tanks. Our new tanks will give us some extra capacity for bottling and mean we are effectively at production capacity at our current site.
New Employee
To help cope with this extra production we need more hands and we're delighted to announce that Giada Maria Simioni will be joining our brewing staff from the middle of this month. As we increase in size its really important to us that we maintain quality and consistency; on top of general brewing duties Giada will be helping us set up a rudimentary lab for microbiological analysis and be involved with all aspects of quality control. Giada has experiencing working at a number of great breweries including Thornbridge and Birrificio Italiano and we're really looking forward to working with her.
Events
BrewDog Bristol Meet the Brewer
hursday 15th November myself and head brewer Stu are heading down to the west country for an event at BrewDog's newest location in Bristol. There'll be six of our beers on the bar for the evening, High Wire NZ, Cannonball IPA, Human Cannonball DIPA and 3 of our new barrel aged beers. Its a first outing for us in a part of the country that has had next to nothing of our beer so far, so please come down say hello and let us know what you think of the beers, it should be a fun evening!
Rock Star 2012 Launch
Saturday 17th of November see's the launch of this years Rock Star our collaborative beer with our friends at Dark Star Brewing. One of our favourite beers of last year Rock Star is an American Brown Ale, both 'sumptuously malty & enthrallingly hoppy'. We brewed two versions of the beer this year, a 6% cask version we went down to brew with Mark and Andy on the big kit at Dark Star and a 7% keg version on our own kit.
As with last year we're doing a joint launch of the beer with both versions being available for the first time at The Grove, Huddersfield and Evening Star Brighton, we really hope you'll come down on the day to taste the beer, it will definitely be tasting its best when at its freshest!
You can read about Rock Star on Mark from Dark Stars blog