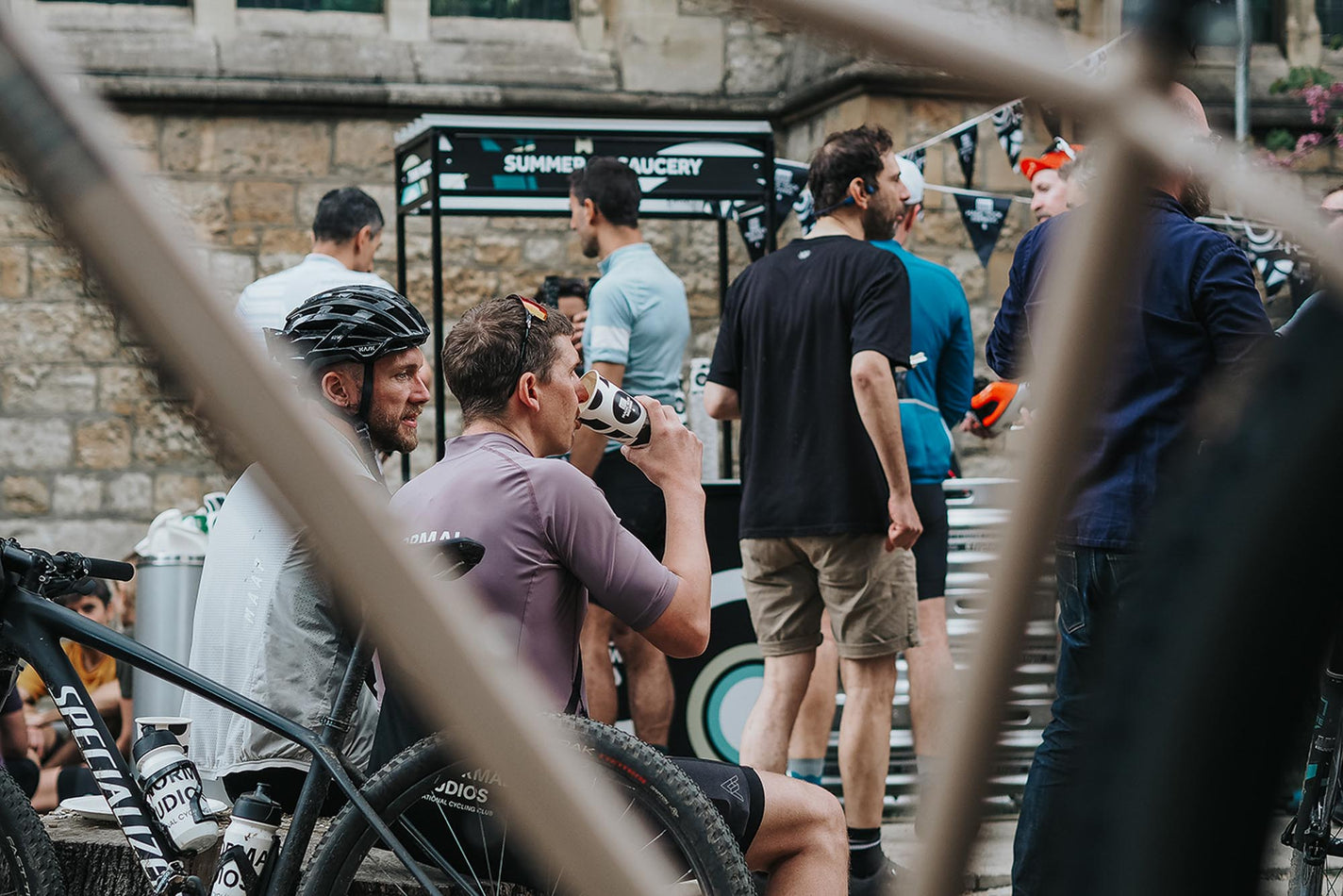 Magic Rock returned to North London Dirt for our third year of involvement in the organised gravel ride, which starts in Stoke Newington and takes a new route each year, exploring London and further afield. 
In addition to providing the post-ride beers, we sent our own Rich Norgate on the journey South to the capital to take part.
Fresh from 70 miles of urban and rural gravel, here are his thoughts:
"This was my second year of NLD, as I made the trip down last year. It meant I knew roughly what to expect, but I love the whole atmosphere of this event. It's so friendly and welcoming!"
As with previous years, the organisers, Philip and Andrew, planned a route that departs from Stoke Newington and tries to take riders on a mystery tour out of the city and into the countryside before returning them to a chilled-out recovery pizza and beer in the grounds of St Mary's Community Centre (which the ride raises money for). 
I arrived at St Mary's bright and early to help with set-up. There was a great buzz there, despite the early hour and a few keen riders were ready for the off at 6:15 am. Meanwhile, I hung out and enjoyed a Workshop Coffee while watching groups of riders and individuals sign-on, chat, discuss the course, wait for friends and eventually filter out on the ride. I set off pedalling with my old friend Luke, but there was rarely a moment on the ride that we weren't accompanied by another rider or two as we passed or were passed by others. Our route took us East via Hackney Marshes and the Olympic Park. It felt rude not to dive off the official GPS and sneak in a cheeky loop of the MTB course laid out there, playing on berms and jumps for a while before getting our heads down and cracking on.
Into Essex, under the North Circular, we sliced through urban sprawl. Tarmac, grass, cobbles and gravel under wheel. We weaved our way through broken glass and under graffiti, through subways, and gradually the urban dial was turned down, just as the nature dial was turned up. The concrete jungle became the fully-fledged all-natural good stuff. Our soundtrack of traffic gave way to tweeting birds as we cut through woodland single-track into the countryside proper. 
We were joined by Alice from the Steezy Collective, who was organising a group of 20 riding together. Steezy formed as an inclusive collective, supporting women, non-binary and trans riders. A few years ago, these events were almost exclusively attended by white, male and middle-aged people like me. However, thanks to the work of Steezy and groups like Ride for Unity – who were also in attendance and champion unity and diversity within cycling – things are changing.
North London Dirt and many events like it are not a race; community is at its soul, and it's refreshing to see a cycling community that genuinely reflects the wider world it is part of. 
As Philip and Andrew told me, "London is defined by its diversity; we want to reflect that in our events. Everyone should have the opportunity to feel welcomed and enjoy riding their bike with others". Speaking of which, that peaceful, tranquil countryside slowly gave way to roads and city life again. More houses. Then ancient woodland in Epping Forest. We were fifty-five miles in, and the trail turned into an energy-sapping rollercoaster. Short sharp descents, followed by punchy climbs.


Leaving the forest, we took flyovers and cycleways, snuck down paths alongside 
houses, and squeezed between fences. We took to the forgotten places that every city has. The thoroughfares are usually only used by dog walkers and posties and spiderweb their way together into a sprawling map.
Finally, we were left with no choice but to hit the tarmac and make our way back towards Stoke Newington and the promise of that pizza and a little rehydration thanks to Soraia behind the Magic Rock bar. 
Despite the occasional shower during the day, the weather held into the afternoon and groups filtered back to fill the space outside the community centre. Strangers sat shoulder-to-shoulder sharing stories and comparing notes for hours after they had finished turning pedals, and it wasn't until the evening light began to show hints of fading that the last riders made their way wearily home, smiles on faces.—
We'd like to say a big thank you to the North London Dirt boys, Philip and Andrew Diprose, for organising such a great event yet again, and we'll look forward to seeing you again next year...


In the words of the Diprose Brothers: GRAVEL IS BEST.