Mind Control IIPA & Hedonic Escalation IPA - Magic Rock Brewing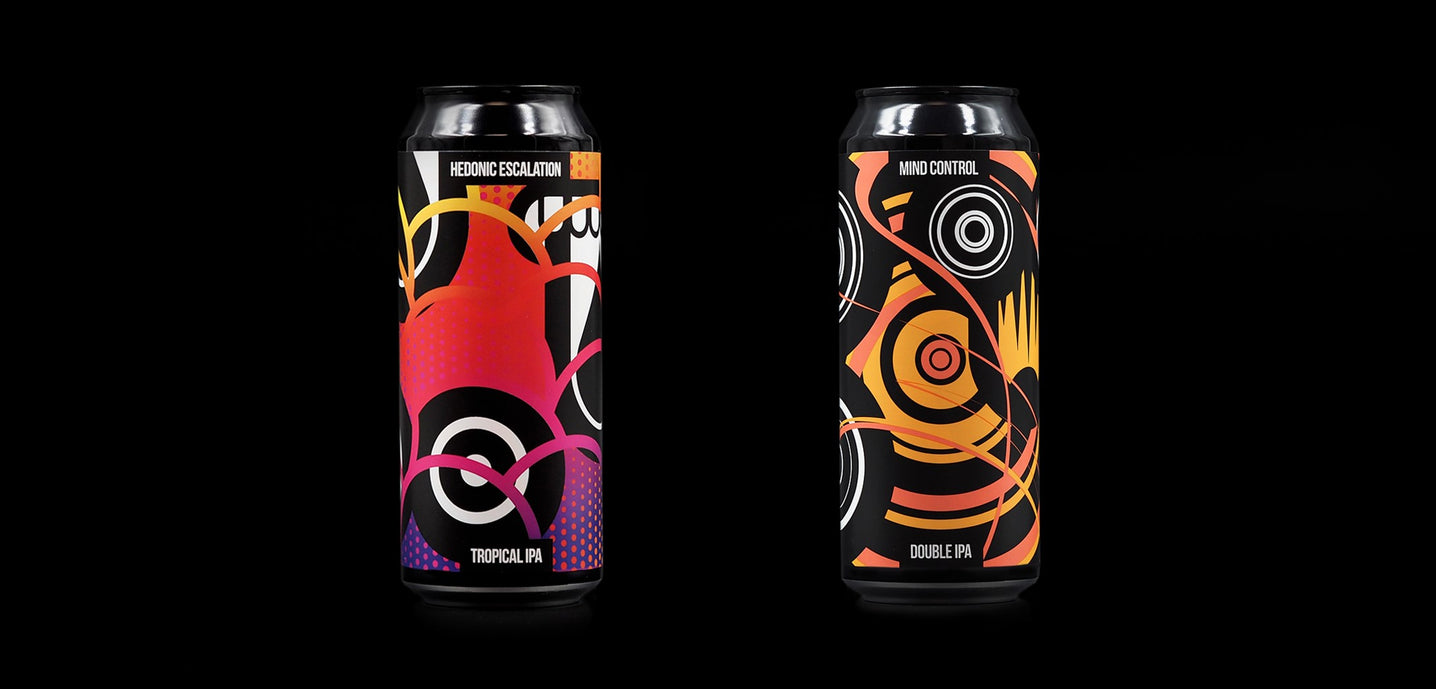 March and the return of Spring (ha ha!) brings the release of two new hoppy specials. To fill you in a little on our thought process with our IPAs and IIPAs at the moment, in a nutshell we are looking for intensity of flavour, cleanliness (particularly clean fermentation) and as always balance and drinkability.
From a malt perspective, we are looking for smoothness of body with adjuncts such as oats, wheat and rye adding a fuller mouthfeel to help carry the hops. We tend to present our IPAs hazy but often less opaque than some, mainly because we think they're more drinkable like this.
Yeast wise, we are either using neutral American ale yeast to let the hops shine, or more aromatic (estery) UK strains which finish slightly sweeter and add to the overall 'fruity' character of the beer. These yeasts were uncommon in modern UK IPAs five years ago but are increasingly being equated with hoppy IPAs worldwide.
For our dry-hop process, after each addition we do a rousing 12hr recirculation which gives us effective mixing of the T90 hop pellets or Lupulin Powder, (which are around 2 to 1 usage when compared with regular pellets). We are achieving excellent results and utilisation using this method while using less hops. We have used even higher levels of dry hops in our IPAs in the past (up to 35g/l) but in our experience extreme dosing levels are often wasteful and can unbalance the drinking experience and add hop burn (a raw hop harshness on the throat).
The first IPA is a double called 'Mind Control', with this beer we've gone for a higher ABV matched to our estery house IPA yeast, which is currently London Ale II. This yeast adds an expressive stone fruit/berry ester (aroma) and ferments and crops consistently well, throwing none of the autolysed (beefy/savoury) notes that some of the other estery strains can add. We've used all US hops and included some de-bittered leaf hops, with the intention of adding back a little of the 'leafy' quality that is removed from the lupulin powder.
The second IPA is 'Hedonic Escalation' with which we've gone for a more tropical vibe, fermenting with Brett Trois yeast, a Saccharomyces strain once thought to be a Brettanomyces strain due to its pineapple/mango flavour characteristics and slightly tart finish. Hop wise we used US Simcoe & Ekuanot as well as the crazy Neomexicanus parented experimental hop HBC 438, which delivers tropical coconut flavours. We also included some Huell Melon which is reminiscent of white grape/melon, and a little limey NZ Motueka.
Both beers will be released at 1pm this Friday 23rd at our Taproom in Huddersfield on draught and in 500ml cans featuring Rich Norgate's beautiful artwork, and both will be pouring at all sessions of Hop City 2018 in Leeds Thursday 29th-Saturday 31st alongside our Tap Take Over at The Cross Keys in Leeds on the same weekend.
500ml cans will be available via our webshop from 9m on Wednesday 28th March
Tasting notes for the beers are below.
Mind Control: IIPA 8 %
An 8% double IPA using Golden Promise, Oats and Wheat in the mash for a smooth rounded mouthfeel. Heavily hopped in whirlpool and dry-hop at around 13g/l with Simcoe, Amarillo, CTZ and Mosaic Lupulin powder, de-bittered leaf pellets and LupuLN2 pellets. The hops giving familiar citrus and stone fruit flavours with a slightly dank edge. The beer was fermented with London Ale II, which adds a berry/stone fruit aroma and a slightly sweet finish.
Malts: Golden Promise, Oat Malt, Torrified Wheat, Pinhead Oats
Hops: Cryo Hops™ Simcoe, Amarillo, Mosaic, CTZ. Debittered Leaf Pellets Mosaic, Simcoe, Amarillo. LupuLN2 Pellets Mosaic
Yeast: London Ale II
Hedonic Escalation: IPA 6.7%
A tropical IPA using house Golden Promise, Oats and Wheat for body and a little Caramalt for residual sweetness. Judiciously hopped with Simcoe, Ekuanot, HBC 438, Huell Melon and Motueka in whirlpool and dry hop. The hops adding flavours and aromas of passionfruit, melon and lime. Fermented with Brett Trois for a pineapple/mango aroma and a lightly tart and refreshing finish.
Malts: Golden Promise, Oat Malt, Golden Naked Oats™, Wheat Malt, Caramalt
Hops: T90 Motueka, Huell Melon, HBC 438. Cryo Hops™ Ekuanot, Simcoe
Yeast: Brett Trois