MAGIC STORIES - Magic Monday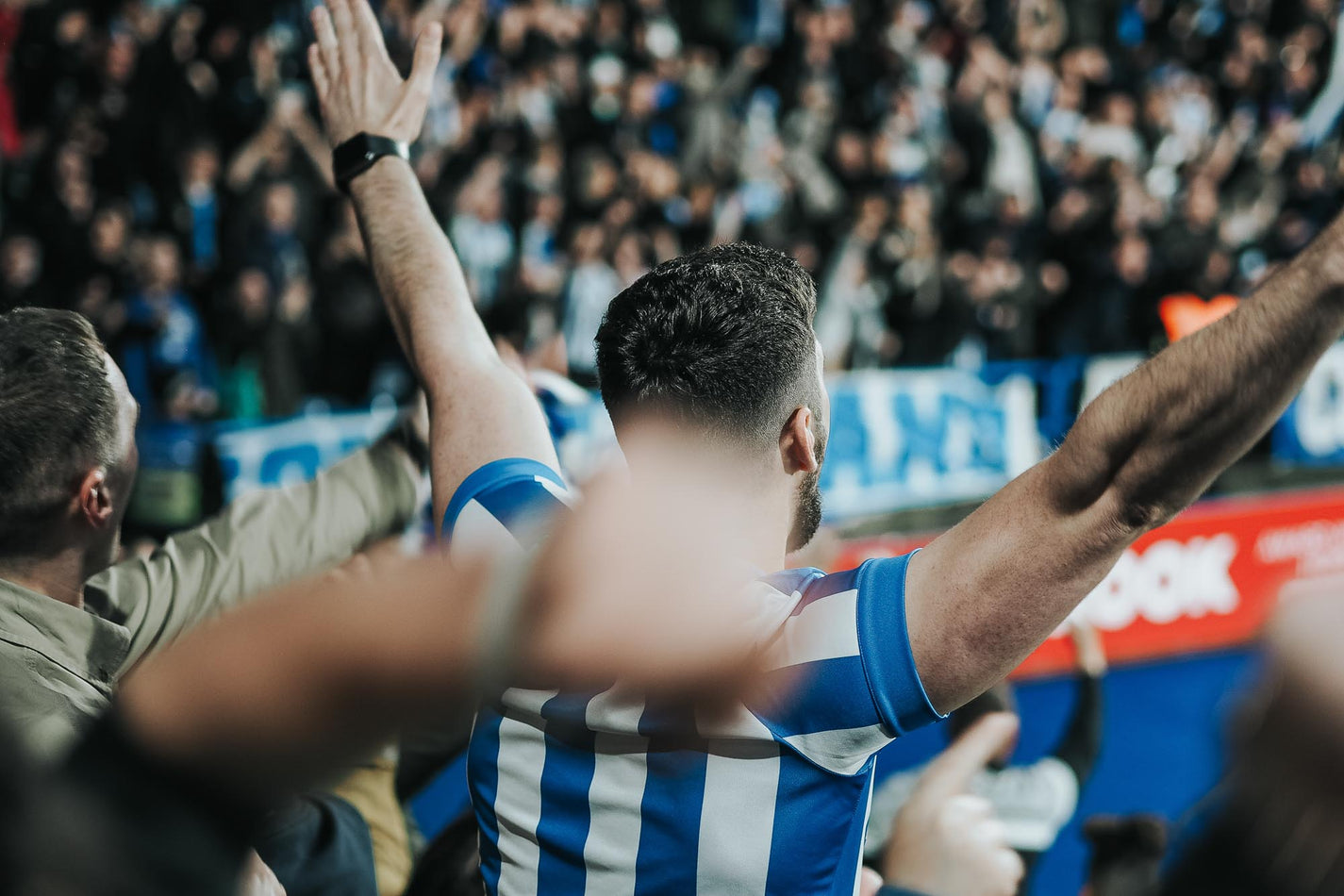 Football and beer have always been a winning combination! We wanted to learn more about the match day experience ahead of Huddersfield Town's biggest game of the season so far. We went along with Brady Frost, one of the hosts of the Huddersfield Town fan podcast, And He Takes That Chance, to soak up the atmosphere. He talks about pints, the play-offs and why he loves the beautiful game.
Football does weird things to you. After all, as my girlfriend has often pointed out, it just seems to be old, unfit men shouting obscenities at young men in their athletic prime. And she's right, but there's just something about the game that's addictive. It's about genuine connection with friends, family and people you'd never spend time with in any other context -  all while a ball's getting kicked around a field. And of course, a pint plays a crucial part on any match day. The pre-match excitement, the half-time discussion and the post-match analysis, all of which usually occur with a pint in hand.
 Huddersfield Town are on the cusp of returning to Wembley in the Championship Play-off Final and once again gracing the heady heights of England's top division, the Premier League if successful. First, The Terriers have to navigate the difficult task that is Luton Town at home in the second leg of the semi-final. The first leg left it finely poised at 1-1, so it's all to play for.
I've got my typical match day experience down to a tee. Saturday, a pint at Magic Rock's taproom before the game and then a causal saunter down to the stadium with my friends. But for this big game, it's on a Monday night after work and that means a whole day trying to avoid thinking about what's to come. And it does not get off to a great start. 
Time to think means (you guessed it) overanalysing! Football is rife with superstitions and while I don't consider myself superstitious, I'm suddenly contemplating if fate does play a part in this match? Are my cancelled train and frantic commute a foreboding sign? I spend my day being peppered by anxious thoughts from my colleagues and fellow Town supporters. "Seven hours to go mate", someone in the office says, breaking my concentration as I'm unsuccessfully trying to bury my head in some emails. Today's going to be a long day.
As I leave work, my eyes can now be firmly on the prize. I arrive at the taproom, settle down outside with a pint of Cannonball and meet my stepdad Andrew and friend Joe. Let's get stuck into it. What did we make of Friday's game? We've discussed this to death already. How are we feeling about tonight? Nervous, we've already said that over several texts and messages throughout the day. Which players would you start? Says me, a man whose tactical football knowledge can be summed up by shouting 'don't complicate things!' over and over again at the players when in the stadium.
The food (burgers from that week's food vendor) has arrived and it's so good, that we hardly notice when Luton Town fans who've travelled for the game up attempt a chant. It's ignored by the Huddersfield Town shirt wearing contingent.
Time seemed to slow down earlier but it's getting away from us now, so we hurry to finish our drinks and make the walk down Willow Lane to the ground. Every match day, we make the same pilgrimage to the stadium and it's my favourite bit. The noise of thousands of supporters' murmurs growing louder with each step, the snippets of conversation from those in the crowd, the growing excitement as you see the arch of the ground poking out from in between the terraced houses.
We queue through the turnstiles and at this point you can see the pitch, it's alarmingly close. We make our way into our seats and are greeted by 'Oh you're early for once!' from the grandad and grandson who sit next to us. I've sat next to this duo for three years and I still don't know their names, yet I've shared almost every emotion with them from joy to despair. That's just one of the things I love about the sport.
A sea of blue and white clappers are held high as the players make their way out onto the pitch. The atmosphere is electric. It's the loudest I've heard it for years. Voices roaring around the stadium. 'TIME FOR NEW HEROES' reads the banner held aloft by the fans in The Cowshed Loyal, home to Huddersfield Town's chief orchestrators for crowd noise. Here we go.
Oh dear. No goals and by the time the half-time whistle blows, our top scorer has gone off injured. He's replaced by Jordan Rhodes, a Huddersfield Town legend, but one that's been written off by many football pundits, as he hasn't quite hit the heights he did in his first spell at the club. The team are nervous too and Luton deserve to take the lead but somehow it's all square despite their chances. Dizzy Penalties, the half-time entertainment where two lucky punters spin around a broom before attempting to score a goal, doesn't seem to ease the tension either. The stadium announcer bellows "We need you to get behind the boys more than ever before in this second half". "They need to get behind themselves, absolute rubbish!" comes in reply from the joker in the pack near me. He's yet to get even so much as a smirk from the crowd around him this season but I suppose the team could learn a thing or two from his determination.
The half-time analysis between my stepdad Andrew and I has mainly been us repeating the phrase, 'well they can't be as bad in the second half' over and over again to each as we try to will it into existence. The longer the game goes on, the more it feels like extra time and penalties are on the cards. Huddersfield Town have never won a playoff game at home and tradition feels like a hard habit to break at the moment. Niggly fouls start to creep in as the players tire, and one from Luton Town creates an opportunity for The Terriers. Jonathan Hogg goes sprawling after a vicious tackle from James Bree. Up steps Sorba Thomas. He has had an amazing season and can serve a ball on a plate for a player to score, one that'd be worthy of a five-star rating on TripAdvisor. I'm convinced even one of the dizzy penalty takers fresh from their trip around the broom could have a good chance of scoring if Sorba set them up. 
81 minutes on the clock and the ball fizzes into the box, it whips past the crowd of players towards Jordan Rhodes as he jostles with an opposition defender. This is too perfect, the narrative is too delicious, and this is too obvious. He sticks a leg out and the ball ripples into the net. There's a delightful pause between the ball crossing the goal line and the crowd realising what has happened. Screaming, we all leap into the air celebrating what we've just witnessed. I hug my stepdad and make unintelligible noises of joy. The team, who were predicted for relegation and written off by many throughout the season, have just seen a player also described as being past his best, score the crucial goal. They've made a breakthrough and it feels oh-so-sweet. The remaining 15 minutes somehow feel longer than the previous 81 as Luton desperately scramble for an equaliser. The whistle blows and they've done it. They've actually done it.
The home crowd spill onto the pitch and the celebrations begin. Years of Huddersfield Town misery and frustration have gone in an instant. Partners hugging one another. Families jumping up and down in delight. Players hoisted onto fans' shoulders. I don't want this moment to end.
The walk back to the taproom feels like an out of body experience, we're struggling to come to terms with our success. There are a smattering of Luton fans in the crowd and so we don't rub it in. We all know the cruel heartbreak having been on the receiving end before. We head inside, clink our glasses and cheers in celebration. The first collective sip of the post-match pint of Saucery is greeted with silence as we can now relax and reflect. Analysis of the game starts, the relief pours out and the smiles can't stop.
Plans for the final are already being hotly debated but it's not the time to decide yet. Let's enjoy this moment, the drinks, the atmosphere, the win. We finish up, say our goodbyes and make our way home.
In under two weeks, we'll go through it all again, this time at Wembley, with promotion on the line... Am I ready? ABSOLUTELY!
Can't wait until Wembley? Us neither! Grab some FRESH Town Lager and tune in to And He Takes That Chance for all the pre match build up, gossip and banter, it's as simple as a few clicks.