MAGIC STORIES - HOLMFIRTH HIKE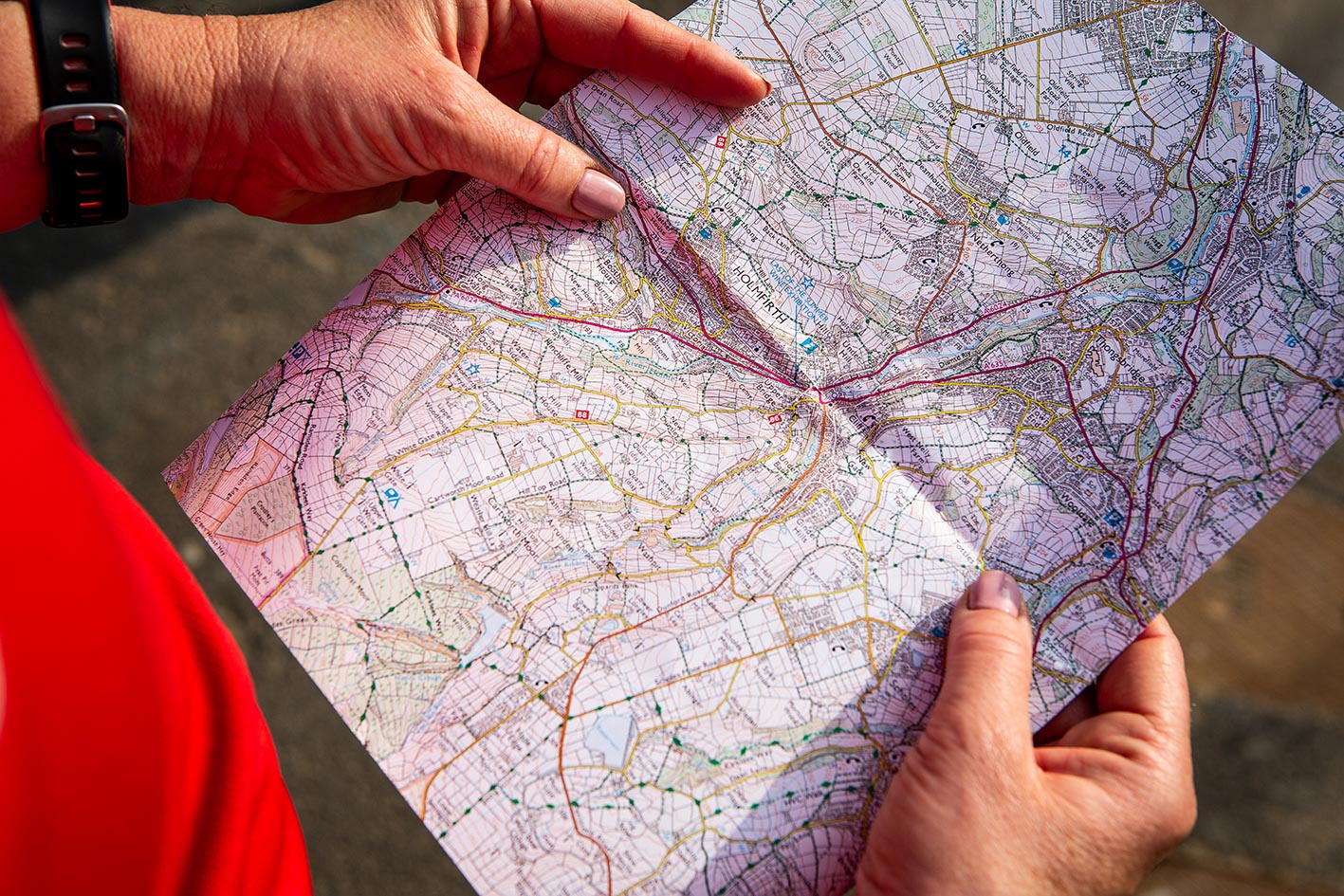 Time to stretch out your legs and earn your pint!  We headed out with our local hillwalking guide, Amanda from Peak Footwear, and our trusty companion and journalist Tom Hill to discover the magic hidden in the countryside surrounding our Holmfirth Tap Room. Kick back, relax, and read about our first installment of magic stories.

Over to Tom...
Holme Town wandering

It was something that my parents instilled in me… a drink and a meal out was to be earned. Most weekends, we'd walk up a hill with the promise of a lemonade and a packet of crisps at the end. As time went on, my perspective changed. The walk stopped becoming something to be endured to secure a reward, and started to become the reason for heading out in the first place. And the lemonade was swapped for something a little tastier and more alcoholic.

I was therefore doubly looking forward to a mid-week visit to Holmfirth. Our plan was to tap up the services of local walking and running guide, Amanda Crawshaw and stride out along the river Holme before exploring moors and woods. The local history of Holmfirth is so tightly packed and interwoven, it resembles the drystone walls that divide its hillsides into a patchwork quilt. From old farming communities to the birth of industrial revolution and beyond, our human history is stacked one story upon another within the folds of the Holme valley.
Booting up

But, maybe I'm jumping ahead of myself a little. All walks must have a start, and ours was at Peak Footwear; a literal stone's throw from Magic Rock Tap Holmfirth. There, I met Amanda; then Casper who local's will recognise as one of the faces behind the bar at the tap. We were also joined by Rich; Magic Rock's Head of Colouring In (the man in charge of making the cans look the way they do), his wife, Sam and their youngest son, Ralph.

Before I start though, let's hear it for the small independent shops like Peak Footwear. Despite its diminutive size, owner Karen manages to pack it full of hiking boots and running shoes and everything you might need to take on this walk or something much longer and more serious. And in the internet age, walking boots are definitely one of those things where trying on in real life is more than worth the initial effort compared to a couple of clicks on Amazon.

So we gathered around maps in the shop, while Amanda traced our route, across packed contour lines, and over high tops… it's always so easy to draw that finger… and so much harder when it comes to placing one foot in front of the other. Perhaps, we needed a little pick-me-up before we strode out?

Fortunately another Holmfirth institution, Bloc Coffee (now CAVE), was on our way out of town…
Last of the summer… in early spring

Compulsory (and excellent)  Bare Beans flat white ticked off, it was time to actually do a little walking. Amanda promised us a side to Holmfirth that we may not have seen before, but we started with perhaps what the town has become most famous for. Last of the Summer Wine was the longest running sitcom in the world, and two of its stars are buried in the graveyard of St John the Evangelist Church, a couple of minutes walk up the hill from Bloc. Bill Owen and  Peter Sallis (who also voiced Wallace of Wallace and Gromit fame) lie next to each other, and on this warm spring day, were bathed in sunshine with tributes neatly arranged next to their gravestones. I can't attest to being the greatest fan of the show, but it felt like worthy praise that despite neither of the pair hailing from Holmfirth, they chose to lay to rest here.

Perhaps it was time we found out a little more about what makes this small town and its surrounds so special. After a short stretch on the road, we took an unlikely looking footpath squeezed between a couple of houses, and followed the river as it wound its way up the valley. Apparently it is the perfect spot to spy a kingfisher, but despite our eyes being alert for a flash of cobalt blue, we were out of luck. Instead, we passed alongside the walls of old mills and factories; industry butting up to nature, framing it, and for a while using it whether that was water for power or for process.
Paths and stories and hills…

It is one of things that I love the most about our corner of the Pennine hills. They may not be untouched wilderness, but they tell the richest stories of generations of lives past. Each footpath we followed has seen thousands of feet before ours… droving cattle, walking from hamlets nestled on the hillside down to the factories below: walks with purpose. For the most part, this criss-crossing network of dashed lines on the map have been repurposed for our leisure, but it's impossible not to think of the shepherds and mill workers as we ramble along.

If there is a downside to the steep sided valley walls, it's that they are a bugger to climb. The upside is that height gain is efficient. And it took little time at all for our group to be looking down upon the first part of our route as we paused to strip layers under the unseasonably warm sun. Daffodils were fully in bloom; punchy yellow trumpets tucked against walls and along the side of the quiet tarmac lanes that we used to link up the footpaths we followed.
Walking and talking

Maybe the greatest thing about walking is the way that conversation flows when you are side-to-side with someone. Whether with a complete stranger or life-long friends, some of the best and most fulfilling conversations I've had with people have been had while walking. My personal theory is that you strip down the discussion to the basics. There's no body language to read, little to distract at all, and therefore each participant concentrates on listening. Pauses aren't awkward, and can drift into minutes of silence, before the thread of chatter is picked up once more. Conversations blew back and forth in the gentle breeze we found on the tops; from small talk to deep and meaningful and back again.

We stopped for snacks beside an abandoned farmhouse above Fox Clough; perhaps a victim of being too remote to build a road to. Their loss was our gain though, as we followed the small stream down through ancient woods, to our final short climb of the day.
Finding Magic in the landscape

All that was left to do was contour the opposite side of the valley, high above where we started. Another thing that I love about West Yorkshire is the layout of the landscape; the geography and the geology of the land. It conspires to hide and obscure, then surprise and amaze. Your line of sight is constantly guided and framed. Despite being no more than a mile from Holmfirth town centre, its heart was completely hidden by a twist in the valley. You don't always need to see something to know it's there though, and everything from the high lanes to the drystone walls seemed to point down towards the promise of a pint and a pie.

Amanda had one last surprise up her sleeve though. Instead of taking the road all the way down into town, we ducked down some steep steps sandwiched between terraced houses, and back through woodland until we were all but on top of the shops and cafes where we started. Sometimes you just need to know where to look to find a little magic.

Speaking of Magic, all that yomping and chatting hadn't half built up a thirst. Fortunately, we knew somewhere that would help with that…
 Magic Rock HD9
The wonderful sunshine that we had enjoyed all day streamed through the large windows of the old bank that now houses the Taproom. Even after a relatively short stroll, it always feels good to take the weight off your feet; and even better when you combine that with a pint of one of the session ales (my personal recommendation would be the always delicious Ringmaster). It's hard to think of a more traditional accompaniment than pie and peas… and the Taproom had vegan as well as meat options. It took a little convincing to get Casper to wait a few seconds so I could get the all important gravy-pour photo before he tucked in.

Eventually, I had to admit that it was probably time to head home… with a growler full of Ringmaster to enjoy later. Swinging my camera pack over my shoulder I stepped back outside and stared up at the valley sides, spotting a path leading to a cluster of houses. "I wonder where that track leads?" I pondered for a while, making a promise to myself to come back and find out.
Notes:

If you'd like to follow this walk, you can find the route below:
GPX trace of the route here: Holmfirth Hike
Google Maps Route here: Holmfirth Hike
 The walk is roughly 5.65 miles | 1042ft mixed terrain and best enjoyed at a leisurely pace. Put aside two to four hours. If you'd like to lengthen it, there are plenty of options. If you need a map, these are available from Peak Footwear. 
The walk is on a mixture of quiet roads and easy footpaths. These are slightly rougher going in places and may be muddy in winter or after wet weather.
 We'd recommend wearing either hiking boots or trainers with good grip. If you need more detailed advice, Peak Footwear will be able to help size you up for the perfect walking boot. 
As always, it's worth bringing a spare warm layer, some food and a bottle of water, as well as a rucksack to carry it in.
All that's left now is to get out and explore! 
Team Magic