Magic Beer & Food Events in April... - Magic Rock Brewing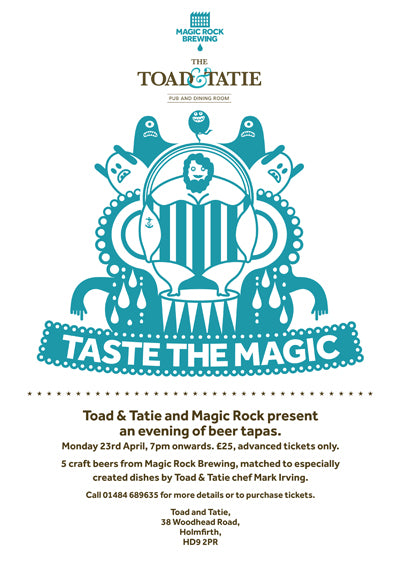 Next Tuesday the 3rd April from 6.30pm we'll be following in the considerable beery footsteps of Doug Odell & Garrett Oliver when we join the good folk at North Bar Leeds to host a Magical Beer Dinner at the excellent Cross Keys. We'll be introducing six Magic Rock beers all expertly matched by the head chef at Cross Keys and introduced by the consummate host Matt Gorecki of North Bar.
Tickets are £30 in advance and available by calling The Cross Keys on 01132433711 or online at www.the-crosskeys.com . If you've never been to one, the beer and food evenings at The Cross Keys are always a lot of fun; the superbly matched dishes adding an extra dimension to an evening of great discussion and beer appreciation. Good beer and great food, whats not to like?!
Our second event is a little nearer to home, down the road at the excellent Toad & Tatie, in Holmfirth on Monday 23rd April at 7pm. The Toad has supported us since our first brews last May and we're delighted to be doing our first local beer and food night with them.
Owner and head chef Mark Irving has created the sort of modern, professional yet relaxed restaurant experience that the area has been crying out for. We're especially pleased that him and bar manager Ben Doherty are taking beer seriously and there's always a great selection of cask and keg along with proper bottled beer menus to accompany the excellent food.
On the night 5 Magic Rock beers will be introduced and expertly paired with 5 amazing dishes devised by Mark. Tickets are £25 pp and available over the bar at the Toad and Tatie or by calling 01484 689635 .
In other food related news the award winning Eric's Restaurant in Lindley, Huddersfield now has a permanent keg High Wire line in their new bar. Get down there for your weekly hop fix alongside some of Erics excellent food…