Hypnotist & Wayniac IPA's and 500ml Cans - Magic Rock Brewing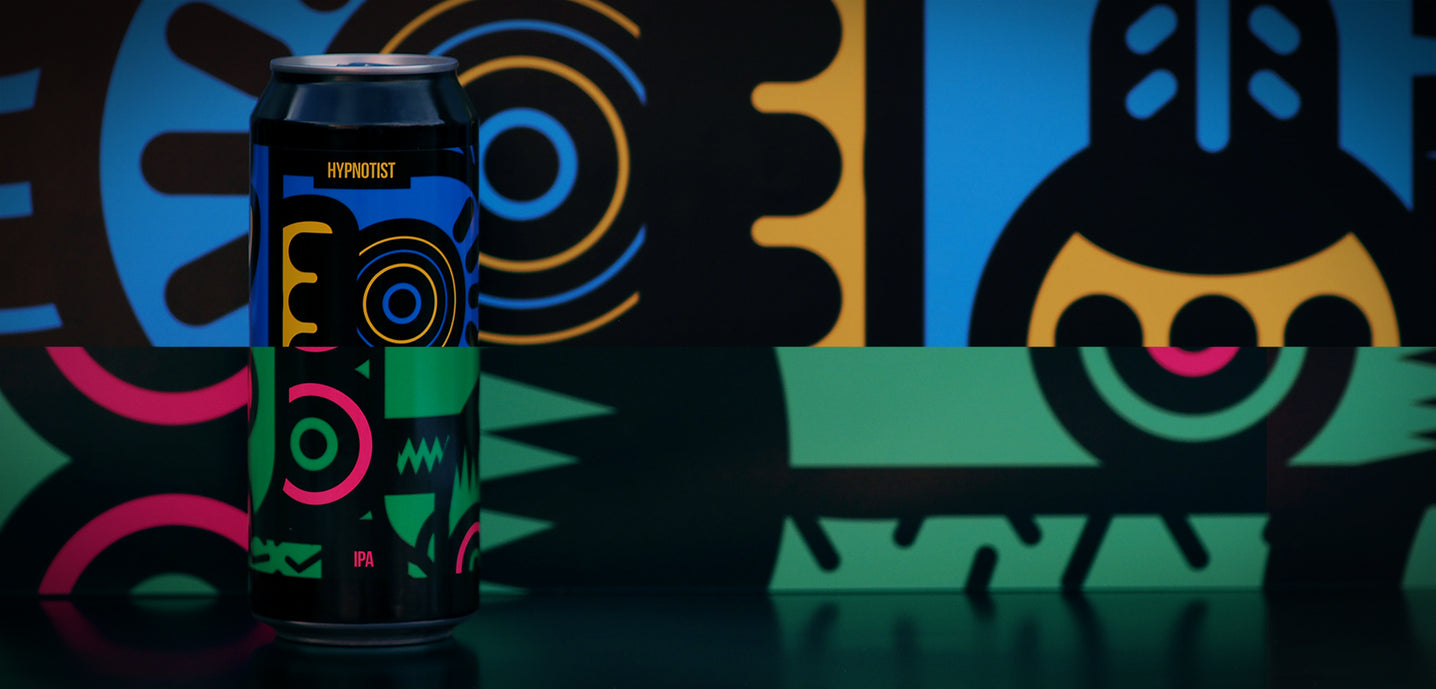 This week sees the release of two new IPAs that we're pretty excited about. The first isn't strictly new: it's a re-brew of Hypnotist, the beer we released at this year's Indymanbeercon in Manchester. However we've changed the yeast for this batch, this time going with the 'Double IPA' strain famed for its peachy stone fruit esters which work so well with the hops.
The beer once again is unfiltered or fined, and as our centrifuge isn't quite commissioned it isn't centrifuged either. All this means is that it retains a quantity of protein and hop polyphenols and particulates resulting in a hazy appearance.
This is a good point to clear up some confusion over the previous blog on Hypnotist: When we said the beer was 'intentionally hazy' we meant that we hadn't applied any clarification process to the beer as we didn't want to lose flavour. This is very different to adding things to the beer (such as flour) in an effort to precipitate haze.
This batch of Hypnotist has a big fruity aroma and hop character while retaining that great breakfast juice-like drinkability from the lower acidity, which gives it a lightly tart and refreshing sourness. Let us know what you think.
The second new IPA is the beer we brewed with Wayne from Cigar City while he was over in the UK a few weeks back. Wayne took time out from his busy schedule researching fish and chips and cask beer to help brew an IPA in his image. 'Wayniac' is a big 'fruit bomb' of an IPA with a bigger, maltier mouth feel than Hypnotist (as Wayne likes in his IPA's) and also a little bitterness to balance the sweetness. Both of the beers utilize the Cryo Hops™ Lupulin Powder, as well as T90 pelletised hops from our friends at Yakima Chief Hops.
These two beers are also our first to be packaged into 500ml black cans featuring some amazing new artwork from our one man design department Rich Norgate. The bigger cans are something we've been planning for a while (having ordered the 500ml change parts when we placed the order for the line back in April 2014) so it's great that we are now in a position to confidently swap back and forth between the core 330ml's and the bigger cans.
The plan at the moment is that the labelled 500mls will be reserved for specials and or collaborative beers which we expect to release on a regular basis to supplement the core range of 330ml cans. We hope you like them as much as we do, as ever please let us know what you think!
Tasting notes for the beers below…
HYPNOTIST: India Pale Ale 6.8%
MALTS: Acidulated, Crystal T50, Golden Promise, Oat, Rye
ADJUNCT: Coriander Seed
HOPS: Amarillo, Citra, Mosaic, Simcoe
YEAST: Conan 'Double IPA'
OG: 1061
Hazy IPA using Golden Promise, Oats, Rye and acid malt in the mash for a smooth and lightly sour/tart body. Citra, Amarillo, Mosaic and Simcoe T90 hops were used in the whirlpool and Citra, Mosaic & Simcoe Cryo Hops™ Lupulin Powder from Yakima Hop Farms in the dry hop creating big tropical aromas and juicy flavour. We used low levels of Coriander seed to contribute geraniol and linalool flavor compounds which augment the fruity and floral character of the hops and yeast. We then fermented with US 'double IPA yeast' for a big mouthfeel and peachy aroma. Deeply fruity, refreshing and drinkable…. are you feeling sleepy yet?
WAYNIAC: India Pale Ale 6.4%
MALTS: Golden Promise, Wheat, Acidulated, Crystal 120
HOPS: Galaxy, Simcoe, Mosaic, Citra, Eureka
YEAST: Conan 'Double IPA'
OG: 1068
A bold and beautifully balanced India Pale Ale brewed with our buddy Wayne from Cigar City Brewing. Golden Promise, Wheat and Crystal Malt in the mash add sweetness and a smooth body. End of Boil/Whirlpool and Dry hop additions of T90 Galaxy, Simcoe, Eureka and Lupulin Powder Mosaic & Citra hops (70kg in total) make for a tropically fruity aroma and flavour redolent of Mango, Passion Fruit and Citrus. Fermented with US 'double IPA yeast' for a big mouthfeel and peachy aroma.
Both beers will be available from Magic Rock Tap and online from Wednesday 23rd November at 4pm
Limited to 6 cans (of each) per person