GBDURO: VIC PEEL POST-RACE Q&A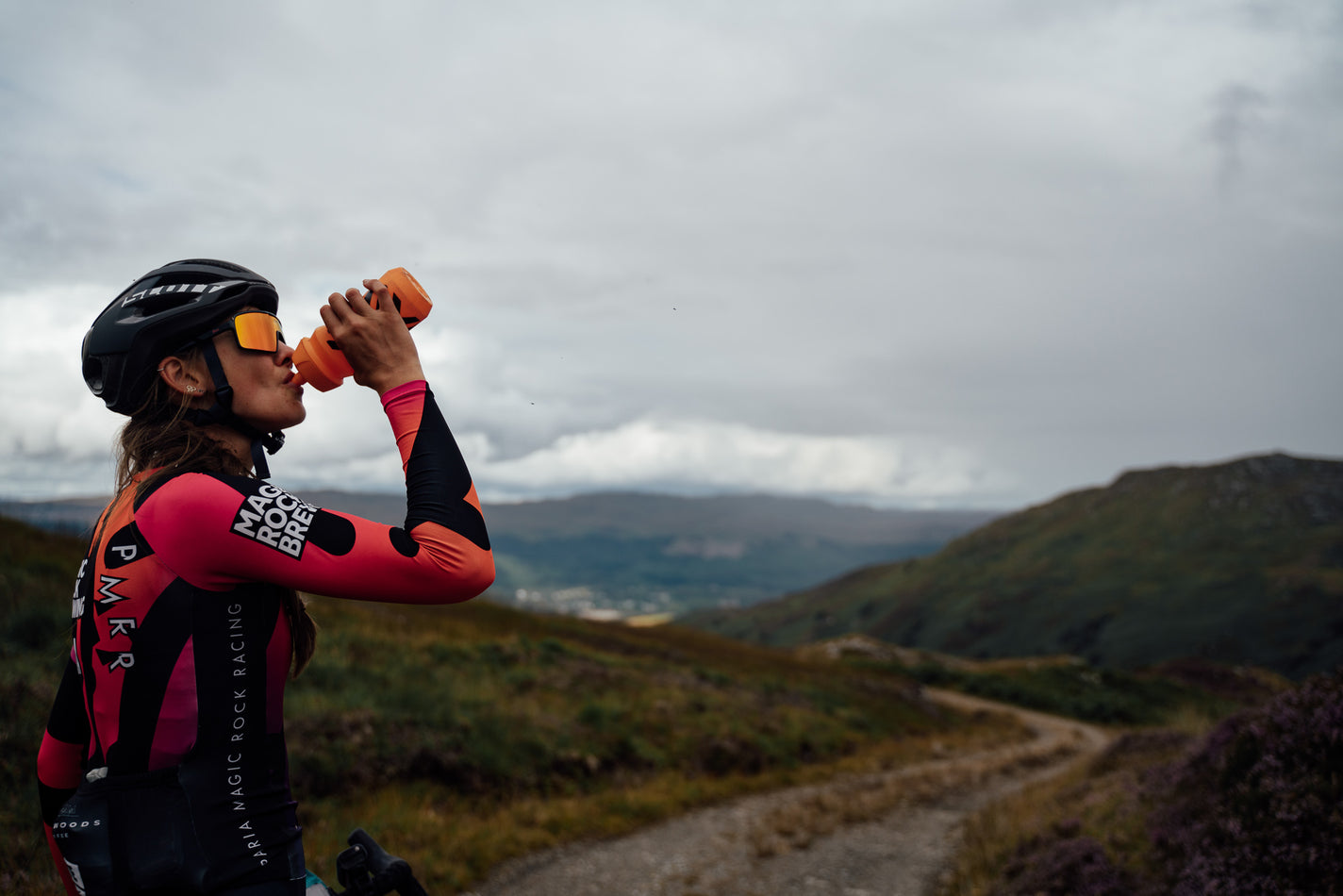 "It changes you. It's been a few weeks since the race now, but I'm still tired… and I've noticed other stuff as well. I have never really liked very busy situations, but they now feel even louder and more oppressive. I think I was quite suited to the long hours by myself on the trail. I love riding my bike even more than when I started"
It has been some time since Vic Peel completed the gruelling yet utterly gripping GBDURO 2021. The four-stage self-sufficient, mixed terrain, ultra endurance race ran from Lands End all the way up to John O' Groats and we can't wait to catch up in person on the 27th October in Holmfirth.
There were plenty of opportunities for solitude over the 1970km of riding; riding day and night, covering huge distances each day. Vic completed the GBDURO in 11 days, finishing in an incredible tenth place. This was made all the more impressive when you realise that she hadn't bikepacked before this year. We chatted to her before the event, but wanted to catch up after she had finished and had time to process her achievement. We set our cycling correspondent Tom Hill on the case last month, after Vic had suitably recovered.
Please read on for what is guaranteed to be an interesting insight before the main event later tonight. Over to you Tom & Vic....
We are nattering over the phone, and Vic is sipping a brew. She's just ridden home from a day at work (as an electrical engineer), a completely different ride from the month or so previous, that's for sure!

"Yeah, my body is still recovering, I think. You go through stages. Just after the finish-line, I just wanted to find somewhere to lie down and take the weight off my sore feet. In the days following, I slept twelve hours a night. I had this sense of relief after finishing, but I felt a massive sense of emptiness too. I missed having the sense of purpose that comes with having to jump on my bike and cycle from dusk until dawn. 'Normal' life has taken a fair bit of getting used to again. But, by one week after, I went out on a hundred mile road ride. It was fairly flat, and I definitely didn't have much in the tank, but it felt so good to be out on the bike again."

We have jumped ahead though. I wanted to know how Vic felt on the start line, with the full 2000km of racing ahead of her; by far the biggest challenge she had ever undertaken.

"I was stood at Land's End, shivering – partly down to the cold wind, partly down to nerves – astride my heavily packed bike. I was so full of apprehension about whether I'd even make the first checkpoint in time, never mind John O'Groats. I think one of the biggest mental challenges I had to deal with was not wanting to let anyone down. Magic Rock and my other sponsors were always so clear with me that they were just happy that I was starting, but I always felt like I wanted to prove that their support was worthwhile. It's a weird one… I think I actually thrive on some of that pressure, but it doesn't necessarily feel good at the time."

It's obviously impossible to cover every single moment and memory from the route. There will be so many experiences that Vic has already forgotten… maybe only to be remembered when she revisits a village or trail many years in the future. What were Vic's overriding memories though? What are the moments that are etched into her mind?

"There are so so many. The rolling hills of the West Country; then it's true that 'Wales never fails', but I didn't realise that meant the route never fails to add in every mountain possible; on to home ground through Yorkshire. The descent of Great Dun Fell nearly broke me, as did the midges in Scotland. The hike-a-bike up Corrieyairack Pass, but the long, long descent down the other side made up for it. It was made all the more beautiful when I saw a huge stag in a field right next to me just as I reached Fort Augustus. Then, on the last stage, when I realised that all I had to do was reach the finish line, I found myself having a 'powernap' against a fence post while I waited for my lights to charge up a little. I couldn't help laughing to myself: I'm honestly not one for roughing it. What had I become, just napping in the dirt?"


Any of us who have cycled before know there are always highs and lows on a ride; those moments we just want it to be over, and those times of total joy. The longer the ride, the more of those there are, and the more intense they become.

"My strategy was to push hard at the start of each of the four stages and try and get big miles under my belt. I was only sleeping for a few hours each night. There were definitely a few teary tantrums along the way. There were so many times that everything felt too much and I had a bit of a cry. But it was kind of a release. You feel better afterwards, laugh at yourself for being so silly and crack on. I think some of the best moments I had were when I bumped into people I knew along the way, especially when I passed near home on the route. After I saw folk though: that was the worst. I felt more lonely riding away by myself."

It is one of the unique features of the GBDURO that racers regather at three checkpoints along the route (with a tight cut off deadline for each). Those who arrive early have a little time to rest up and regather with the clock paused before they push off and do it all over again. We caught up with Vic and the other racers at Checkpoint 2, in Garrigill (see previous blog).

"At every checkpoint, the number of riders dwindled away. Most scratched during stage 1. I think it was possibly due to the physical challenge as CP1 had the tightest time limit, but maybe also due to the mental challenge. That realisation that you are exhausted, but you've barely started! One thing that all the checkpoints had in common was this sombre atmosphere. The closest description I can think of is the opening scene in Gladiator, with everyone knowing what was still to come. Things changed a little by the time we reached CP3 in Fort Augustus in the sunshine… there was definitely that feeling that the race had nearly been cracked. Just 235 miles to the finish!"


Let's return to that final day on the trail for Vic, starting in the early hours of the morning, napping in the dirt, with John O'Groats in her sights.

"I hadn't even rolled out my bivvy. I knew I didn't want to stop long, just enough to charge my lights for the few hours of darkness left. I set my alarm for 3:30am. The sooner I started, the sooner I'd be at the finish with cake and coffee! I set off into the darkness, but it wasn't long before I was riding under the most stunning sunrise. By that point my knees were quite painful, and I was enjoying a couple of ibuprofen with breakfast. Other than that, my body had coped remarkably well. For some reason, on that last day my feet were agonising. I think I'd managed to pick up some trenchfoot [caused by constantly wet feet], but yeah it was so painful to press on the pedals. I ended up loosening off my shoes completely and just counting down the miles to the finish line.

"Ten painstaking hours later, I reached my ultimate goal: the John O'Groats signpost, the GBDuro finish line! I was warmly greeted by members of the media crew, some of the riders to finish before me, including the legendary Mark Beaumont [round the world record holder, and GBDURO winner] himself, and many members of the public asking me so many questions: where have I cycled from? How far today? Where now? To which I answered, 'to find a coffee, an ice cream and my bed!' I definitely hadn't quite processed the achievement. I'm not sure if I have done yet."


So after 1230 miles, 96270 feet of elevation (around 3.5 times the height of Everest), 202 hours, 12 minutes of riding and many teary tantrums, what has Vic taken away from the experience?

"You know… I think the main one is that I really, really love racing. I love the competition and love where it takes you. For the time being I'm looking forward to a winter of racing cyclocross, but after that… well I guess that I know I can complete anything if I put my mind to it. That's a really empowering thing."

And that seems like a good place to finish our chat. We are so immensely proud of what Vic has achieved, and the way she went about it, exhibiting incredible mental toughness as well as the obvious physical exertion required to complete this incredible challenge. We can't wait to see what she decides to do next… even if that's putting her feet up for a while (although, we know that's pretty unlikely!). Perhaps this will be answered at our event in Holmfirth? Who knows! We can't wait to catch up with Vic and other fellow riders in the cocktail bar for what is sure to be a great event.


To end, Vic wanted to say a few thank yous:

To everyone behind the scenes at Magic Rock Brewing and my amazing sponsors, to The Racing Collective for hosting such a gruelling event, to all of the competitors for inspiring me for every minute of the race, and to my fantastic friends, family, colleagues, teammates and the dot watchers all over the country for your support throughout the duration!