Damn, Son! : Sour Damson IPA - Magic Rock Brewing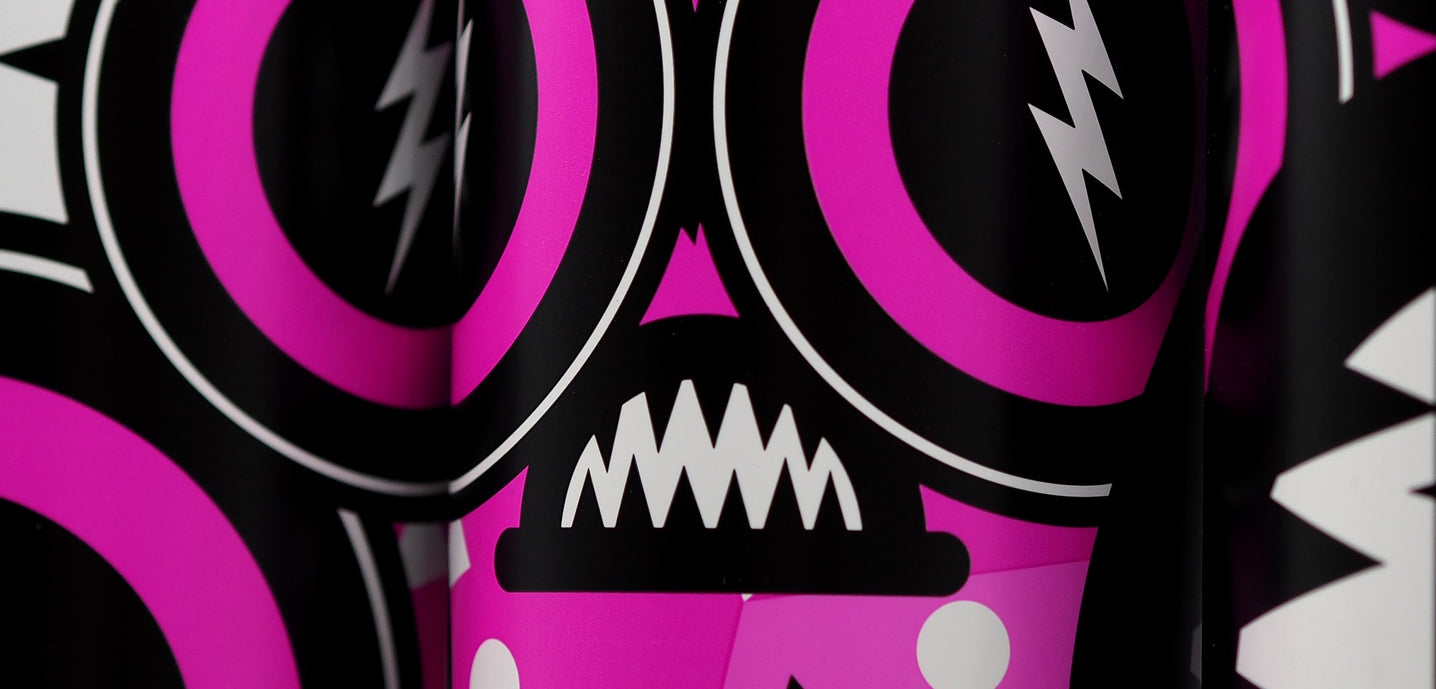 A couple of weeks back we were joined by our friends from Hawkshead Brewery to collaborate on a long overdue beer together. The Lake District has featured heavily in my life, living there for a couple of years in the 80's, and 90's and returning for holidays a couple of times a year ever since, meaning the fells and villages of the area feel much like a second home to me.
As I've grown older, the local beer of the area has become something to look forward to after a day's walking or mountain biking, and my favourite beers have always been Hawkshead Brewery's. I've been enjoying their moreish balanced beers since around the time they started in 2002. I love the flagship bitter and have always been particularly fond of the beers in which they used US hopping like Lakeland Gold and more recently the Citra laden low ABV session beer Windermere Pale which is still probably my favourite cask beer.
I first met head brewer Matt Clarke at their beer festival in 2010, back when Magic Rock Brewing was only in the early stages of planning, and we've gone on to become good friends. We brewed a delicious black session IPA for their beer festival together in 2015 called 'The Illusionist' and our most recent collaboration in Huddersfield is a long overdue reciprocation.
When we discussed what we might brew together I was keen to emulate Matt's success with kettle sours recently (Solar Sour, Key Lime Tau etc..) and wanted to try souring it with the same yoghurt lactobacillus culture he uses. Coincidentally this culture is from Longley Farm in the Holme Valley, near Huddersfield. So with one local ingredient tied in it became obvious to try and pair it up with a flavour associated with Hawkshead's home territory and the obvious choice was damson, a fruit famously associated with the nearby Lyth Valley area.
We had discussed originally making a Berliner Weisse style with these ingredients but the lure of IPA was strong and so we decided to make a sour damson IPA, using lactose in the recipe to balance out the acidity (as Matt had done on his Crooked Stave collaboration 'Key Lime Tau').
For the hops we've gone with earthy, fruity Mosaic which we thought would match well with the damson and pineapple-like Denali to pair with the Brett Trois yeast. The end product is complex and hard to put your finger on, sour but sweet from the lactose, fruity with berries and pineapple and balanced with a dry finish from the Brett Trois that is reminiscent of fruit juice. It's sort of like a beer smoothie if such a thing exists.
Damn, Son! will be for sale on draught and 500ml cans Magic Rock Tap  from 4pm Wednesday 2nd May and online from 12pm on Thursday 3rd. Tasting notes and recipe info below.
Damn, Son! Sour Damson IPA 6.5%
A collaboration with Hawkshead Brewery, this fruit adjunct IPA was kettle soured for a bright acidity but also used lactose in the kettle to add body and sweetness. The beer was fermented with a mix of Brett Trois and our house US ale yeast to add a tropical fruity aroma and tart finish. We also used some hibiscus flowers in the hop back to augment the pink colour and add a berry note to the flavour.
Malts: Golden Promise, Wheat Malt, Dextrin Malt, Acidulated Malt
Hops: Cryo Hops™ Mosaic, Simcoe. T90 Mosaic, Denali
Adjuncts: Damson Puree, Hibiscus
Yeast: Longley Farm Yoghurt culture (souring). WLP644 & WLP001 (fermenting)