Dairyfreak : Dixons Milk Ice and Magic Rock - Magic Rock Brewing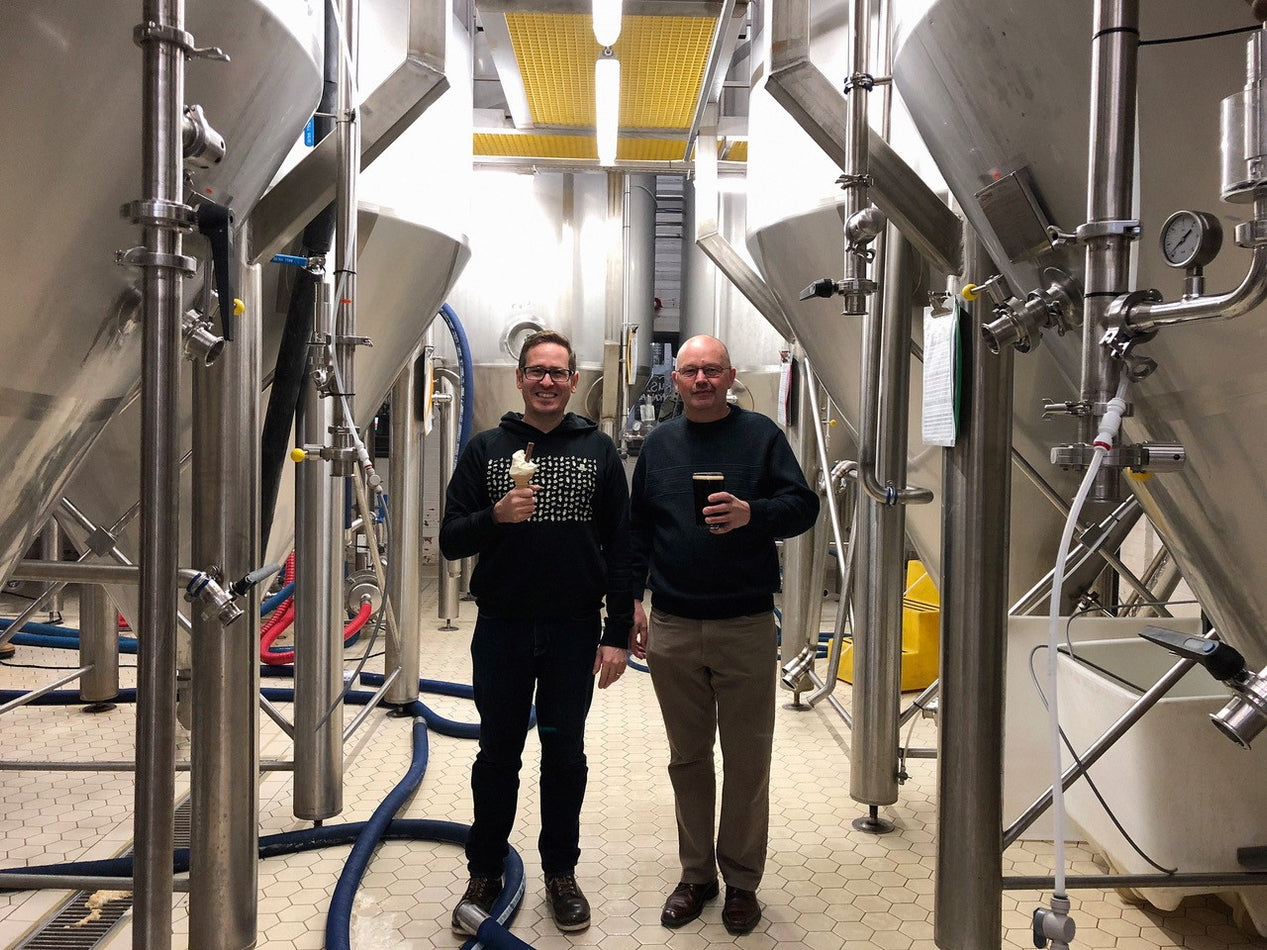 Two things that were particularly important to a young lad growing up in Huddersfield during the late 70's and early 80's were Ben Shaws Yellow Lemonade and Dixons Milk Ice. Obviously there were other things- BMXs, football, the usual stuff… but two mainstay treats available to us youngsters particularly stick in the mind and these were the excellent lemonade and exquisite ice cream made in the town.
I was probably at least 15 years old before I realised the rest of the world wasn't familiar with these products, which in some way made them even more special and intrinsically linked with this little patch of the North of England. Anyway enough of the nostalgia…
It's a strange coincidence that we've ended up with the brewery being based at the old freight yard of Ben Shaws drinks, producers of the Lemonade which my grandfather reckoned to have drunk every single day of his life and which occupied the mill across the road from us for over 130 years. Sadly the business was sold to a larger drinks business in the midlands in the mid-2000's, but you can still buy the fizzy drinks in selected stores around the country and they were the obvious choice when we were working out what soft drinks we wanted to stock in our own Taproom.
If you're from Huddersfield, Dixon's ice cream will need no introduction, but if you're not familiar with it, it's worth pointing out that it isn't your usual ice cream. It's a 'milk ice' using raw milk and a few other secret ingredients in its production (I believe I know what these are now, but I'd have to kill you etc.) Because of this, it needs to be served fresh and is not suitable for home freezing (domestic freezers being too cold) and this is probably one of the reasons it never really spread beyond the area. It's not a firm creamy ice cream full of preservatives and it's not one of those god awful 'whippy' style abominations, it's also not a showy ice cream full of chunks of other stuff. It's sweet, milky and moreish, balanced with a unique texture and as Dixon's say themselves a 'taste of it's own', if you're ever in the area hunt it out.
Why are we telling you any of this? Well we recently got in touch with Dixon's Ice Cream to see if they'd be interested in attending one of our food festivals. Unfortunately they were too busy with their regular business to be involved in the summer, but a conversation was started and it became apparent they'd be interested in working with us to create a beer.
I met with one of the owners Charles and we discussed our love of the local area and what we could do together to help promote the town. We're now in the privileged position of having brewed a beer together which celebrates our local roots. I can't explain what a thrill it has been for me to collaborate with a business which is so beloved by the residents of the town and responsible for so many happy memories from my childhood.
The beer we've made is a 'milk ice porter' which we've called 'Dairyfreak'. Just like the milk ice, it's smooth, sweet and delicious, and will be launched at our Festive Food & Drink festival on December 3rd in both keg on draught and 330ml cans to take home. Our designer Rich also teamed up with the excellent designers of Dixon's new iconic branding Peter O' Toole  and Adam Gill to produce the artwork for the can and some collaborative t-shirts which will be on sale on the day.
As an extra treat we're hopeful that there'll also be a Dixon's van at the food fest serving fresh Dixon's Ice Cream for anyone not familiar with it to try, but as the vans are franchise operated we can't 100% promise it. December is a tough enough time to sell Ice Cream and if it's sunny we wouldn't want to be denying local kids their Dixon's.
Also on the 3rd December we will have the following traders attending our Festive Food and Drink Festival :
Low N Slow
Fritto
Wholesome Junkies
Dixons Milk Ice
Darkwoods Coffee
The Unusual Chutney Company
Handmade Bakery
Ambers Hats