Collaborations : Modernisme and Cherry Cola Vice - Magic Rock Brewing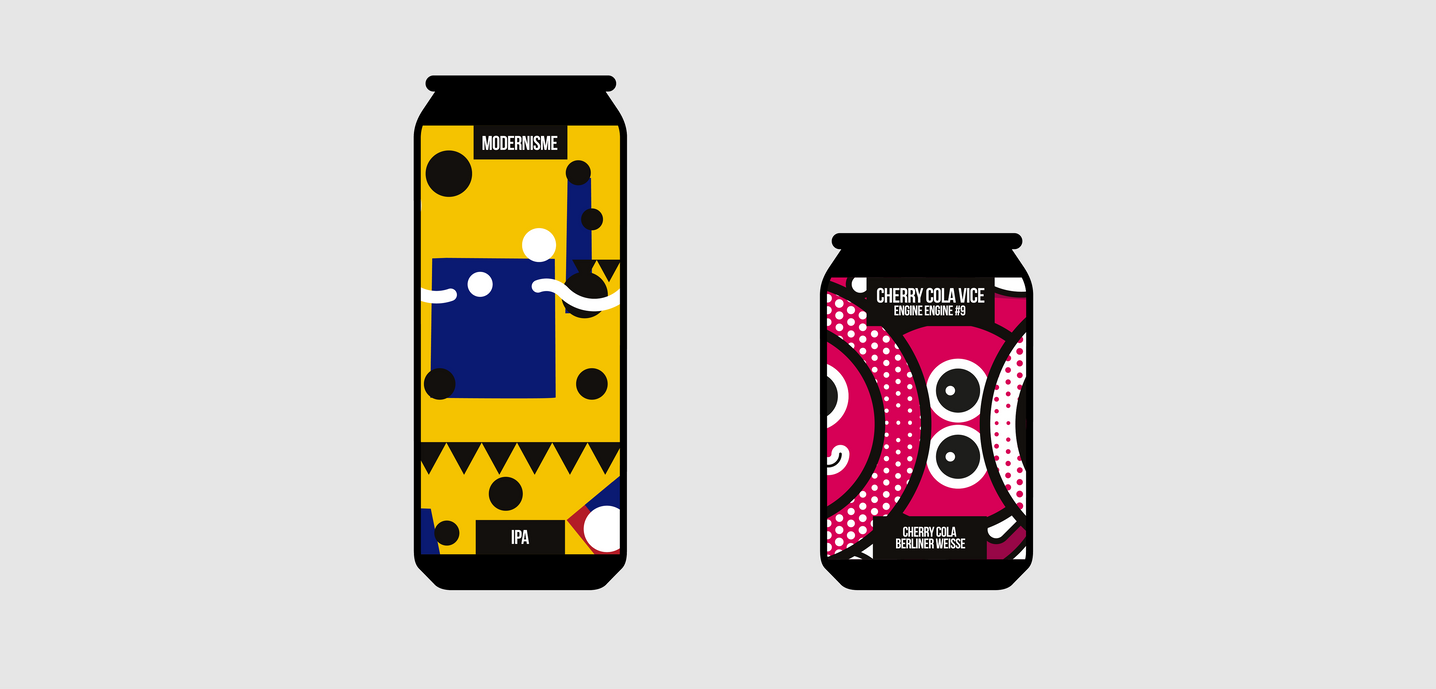 A busy couple of months collaborating with our good friends have come into fruition, this Friday sees the release of not one, but two beers. First up is the return of the 'big lad' 500ml cans in the form of the NaparBier collaboration and then secondly the continuation of our 'vice' series with Engine Engine No 9 Cherry Cola Vice, a three way collaboration with J Wakefield and Slim Pickens.
Both will be available in keg pours and cans from 1pm this Friday 29th at 1pm, direct from magic Rock Tap. Both cans will be on our webshop from 9.30am on Monday 2nd October.
Modernisme 6.0% – IPA
Brewed in collaboration with our friends from Naparbeer. Juan and Beinat from NaparBier joined us a few weeks back to brew this fruity and refreshing IPA full of Spanish sunshine. The beer has loads of Mango and Apricot in the aroma/flavour with a smooth body, subtle bitterness and great drinkability. In case you're wondering about the name, 'Modernisme' also known as 'Catalan modernism', is the historiographic denomination given to an art, literature (and now beer?) movement.
Malt : Golden Promise, Standard Oat Malt, Flaked Oats, Wheat Malt
Hops : T90 – Magnum, Mosaic, Simcoe. Cryo Hops™ – Mosaic, Simcoe, Ekuanot
Yeast : WYeast 1318 London Ale III
Engine, Engine No.9 (aka Cherry Cola Vice) 5.5%
Out of the deranged minds of our lead brewer Nick Zeigler abetted by Floridian flavour magicians J Wakefield and T.Odd Strauss from Slim Pickens comes our third and possibly strangest 'Vice' series beer yet. Engine, Engine No. 9 is a cherry cola inspired Berliner Weiss featuring no less than 20 different ingredients to create a unique beverage with that most recognisable of flavours. It erm… tastes like cherry cola, try it, don't try it… The Choice is Yours.
Malt : Golden Promise, Crystal Rye, DRC Malt, T50 Crystal, Aromatic Malt, Caramalt
Souring Culture : Lactobacillus plantarum
Adjuncts : Lemmon Comminute, Lime Comminute, Orange Comminute, Curacao Orange Peel, Coriander Seed, Cinnamon Sticks, Vanilla Extract, Ginger, Nutmeg, Kola Nut, Cardamon, Indonesian Long Pepper, Amaretto (Noyaux), Sour Morello Cherries.
Yeast : WLP001
J Wakefield, T.Odd Strauss (Slim Pickens) collaboration
NaparBier collaboration