Bourbon Barrel Bearded Lady... - Magic Rock Brewing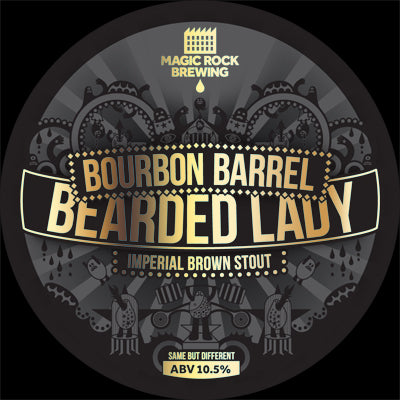 With the last keg going to our event at BrewDog Glasgow, Bearded Lady our 10.5% Imperial Stout has now regrettably all left the brewery until we brew it again at the end of the year… or has it?
We decided at the time that it would be fun to play around with some barrel aging and after a brief discussion got hold of a 54gallon once filled Bourbon cask. This was duly filled to the brim with Bearded Lady and we sat back and eagerly awaited the results. The beer has now been in the cask for the 5 months and we think will be good to package in another 2 -3 weeks.
We had an early taste today and are really pleased with the results, as we hoped the Bourbon has rounded and softened the beer while adding a spicy sweet Bourbon note to the flavour, its definitely added something to the beer, is it better? same but different? we'd love to hear what you think…
We originally intended to hand bottle the majority of the beer but it soon became apparent that we'd need a few kegs for events, so in the end we decided that we would just keg it all.
The first opportunity to taste the beer will be in Norway at the beginning of May, at Haandbryggeriets beer festival in Drammen near Oslo. This is the first time the well respected Norwegian brewery has put on a beer festival and they've invited some of the best small breweries in Europe. We were delighted to be invited and will be taking at least 5 of our keg beers over for the event which runs from midday on Friday 4th May until Midnight on the Saturday.
If you're interested in coming over for the event, it looks like being a really fun weekend with loads of fantastic beer. Flights to Oslo are amazingly as cheap as £10 return from Liverpool with Ryan Air. Hopefully we'll see some of you there.
The first outing for the beer in the UK will be at our brewery on May 20th for attendees of our brewery visit, part of this years European Beer Bloggers conference. The conference which is being held in Leeds at the end of May will bring together bloggers from all over Europe for a weekend of beer related seminars, visits and discussions.
We're delighted to be included in proceedings officially on the Sunday when we'll be opening up the brewery for a BBQ, tours of the brewery and free beer tastings including the new Bourbon version of Bearded Lady.
There should also be a good smattering of our lovely friends from the UK brewing industry around for more beer based discussion for when you get bored of us.
If you can't get to either of these events (the brewery visit is ticket only) there will be a very small quantity of kegs heading out to our best customers, we really hope you like it!