A Year In Beer : 2018 - Magic Rock Brewing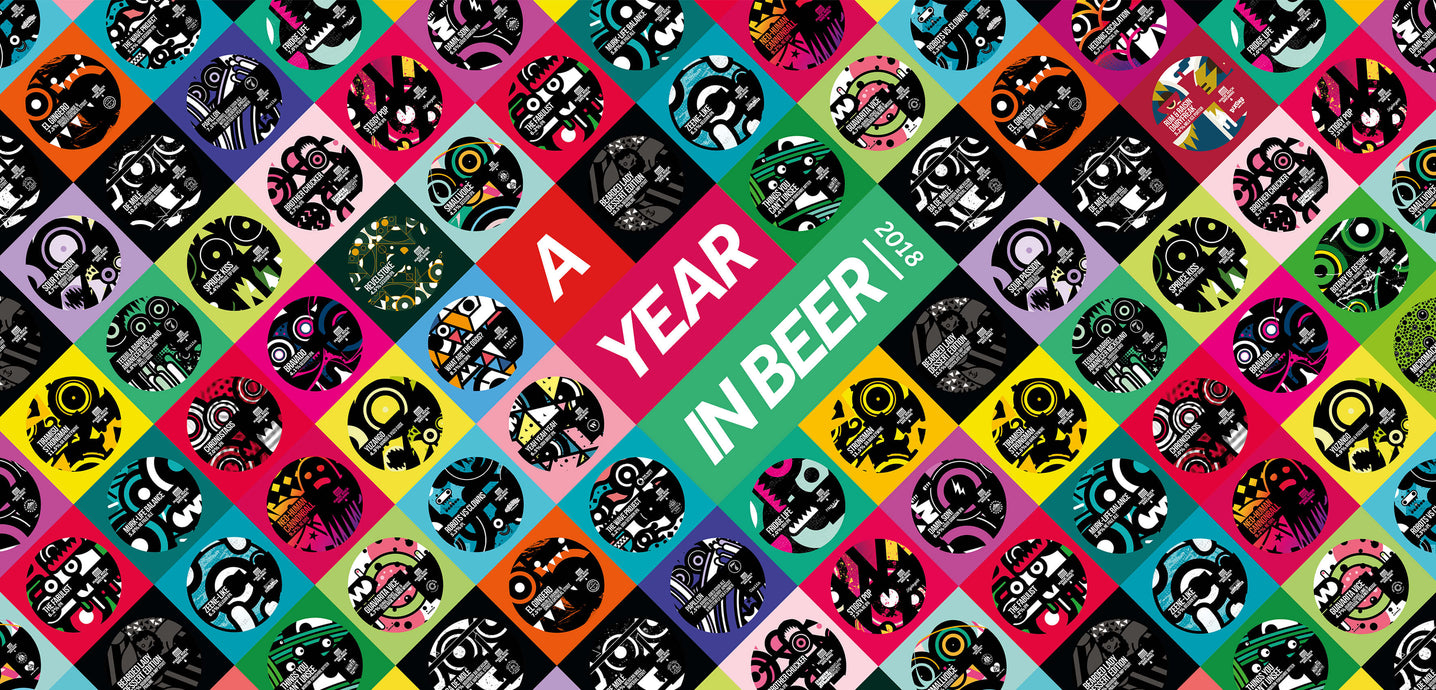 So that's 2018 just about done and dusted, don't know about you but the year literally flew by for us! As is traditional at this time of year, we thought we'd take a look back at some of the fun and interesting things that happened at the brewery over the last year. . .
June saw the inaugural running of our invitational beer festival 'SeshFest'. For a long time we'd wanted to host our own festival and decided to celebrate our volume drinking roots by having it exclusively feature beers under 4.5%. The feedback we got from brewers and attendees was great, we all felt the day was a great success and a good platform to improve on next year. Speaking of which, we've just sent out the first round of invites to breweries and tickets will go on sale in the New Year. If you're interested in attending next June and want to know what to expect, check out this short film put together by Sam Needham at this year's festival.
We've had what's felt like a year of maturation as a business with a number of big projects coinciding to take the brewery to the next level. The biggest of these from an investment point of view was the upgrading of our canning system. August saw de-commissioning and sale of our trusty original line and the installation and commissioning of our new facility. The new line increases the speed of our canning from 3,200 cans per hour to 15,500 cans per hour, and brings us big leaps in terms of pack quality with market leading oxygen pickup during the packing process and therefore much improved shelf stability of the cans in the market.
Summer also saw the installation of our semi-automated keg filler, which means proper metered filling and quality improvements through consistent automated fill procedure. It also meant we finally made the switch to stainless steel re-usable kegs for all our domestic keg sales. From a sustainability point of view this has been a long overdue development which we're delighted to have finally sorted.
This jump in the quality and stability of the beers means we have taken the decision to extend the best before dates on our core beers to 12 months across the range. Our special IPAs and one-offs will continue to have shorter dates with a view to encouraging them to be drunk fresh, but as we mature as a business we are keen to attract a wider audience for our beers and this necessitates longer dates for our core output. It's a move we haven't taken lightly but our new packaging standards have given us the confidence to make the decision.
From a production perspective the other big project of the year was the re-designing of our core range cans. We have now switched six of the ten core beers into the new packaging and the last four, Salty Kiss, High Wire, Common Grounds and Dark Arts will make the switch in the New Year. We've been absolutely delighted with the response to the new bolder look, if you want to read about why we decided to change to the new designs have a read here.
We finish the year having packed around 15,500hl (2.6m pints) of beer, an increase in packed beer of around 22% on last year's figures, format wise that's split 55% can, 35% keg and around 10% cask beer. Looking forward to 2019, we are currently in the process of securing nationwide listings for the core beers. We have 3 more 100hl FVs on order but we will shortly reach the upper capacity levels of our current brew kit and so are now beginning to plan additional expansion to the brewery site and the procurement of a new automated brew system to help us keep up with demand.
We've had a really busy year of travel with staff travelling all over the world to represent the brewery at various events and festivals. If you came to see us on our travels, many thanks and we hope you enjoyed yourself as much as we did! We collaborated with lots of breweries, made numerous new friends and produced forty new beers in 2018. Our yearly reminder in pictorial form is at the bottom of this post, which were your favourites?
We'd like to take this opportunity to thank you for your support in 2018, whether you're a regular at the tap room or have enjoyed our beers further afield, we are always very grateful for the support we receive and wish all of our customers and suppliers a Merry Christmas and Happy New Year.
Yours sincerely
Richard Burhouse (Managing Director)